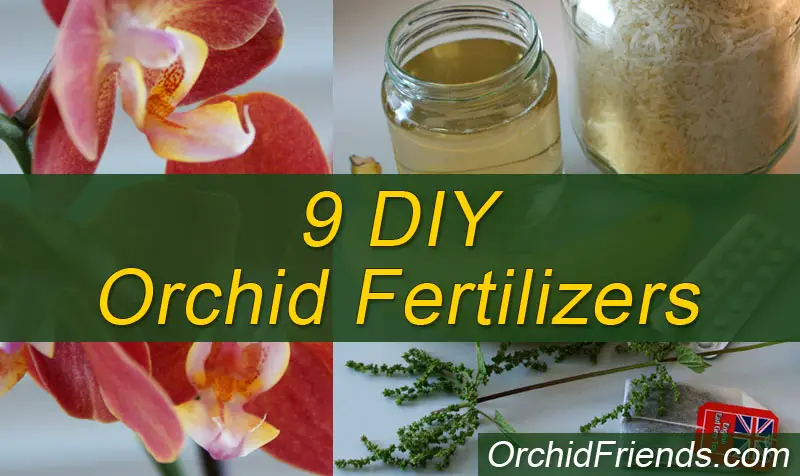 Like all plants, Phalaenopsis orchids need nutrients to live, bloom, and grow. In nature they would absorb essential nutrients and trace elements from their surrounding; the growing surface, decaying plant material, bird and monkey droppings, etc.
As indoor plants, they don't have this natural source of nutrients, even though they do get some nutrients from tap water. 'Clean' waters like distilled water and rainwater contain zero nutrients, so you must add fertilizer to them.
I have a flexible feeding schedule with my orchids. With this I mean I don't have fixed days to feed them – I just do it here and there, and more during the plants' vegetative stage when new leaves and roots are growing.
It takes up to 2 years for an orchid to show signs of 'malnutrition', so even though I use tap water for watering, better safe than sorry! Also, if the PH of your water is too high or too low, it prevents nutrient uptake. So checking the PH level is important; for Phalaenopsis orchids, it should be around 5.5-6.5.
I have several bottles of ready orchid foods at hand, but did you know you can also make your own? I have made and used homemade orchid fertilizers several times, so I thought of sharing a few recipes with you today!
Here are some easy ones, with few ingredients!
Recipe 1: "Epsom salt"
Instructions: Mix 2 tsp of Epsom salt in 1 gallon (4 liters) of water. Use once every two weeks, or as needed.
Note: Epsom salt provides magnesium to your orchids, which is essential for plant growth. It can even help achieve better blooms! Epsom salt can be found in hardware stores and garden centers, or ordered online. Even though it can be found in supermarkets and pharmacies too, I'd advise you to opt for one that is an agricultural grade!
Recipe 2: "Nettle tea"
Instructions: Find a nettle plant outside (the stingy kind!). Pull out the entire plant from the ground with roots and all. (Only the leaves sting so you can safely touch the stem – or even better, wear gloves!) Place the plant in a container of water, and poke it with a wooden spoon etc to release the juices. Cover the container and let it stand aside for a few weeks. Stir occasionally. Make sure the container is out of direct sunlight (heat). Once the fertilizer has been soaking long enough, pour it through a strainer – you only want the liquid, not the plant bits!
Note: The strength of this concoction varies depending on the size of the plant and the amount of used soaking water. Ultimately, when finally given to your orchids, aim for a "weak tea" color. You can dilute the needed amount before each use with plain water. Use this orchid feed every two weeks, or as needed. Nettle is great for growth thanks to its high nitrogen levels, and it should even increase the plants' immune system!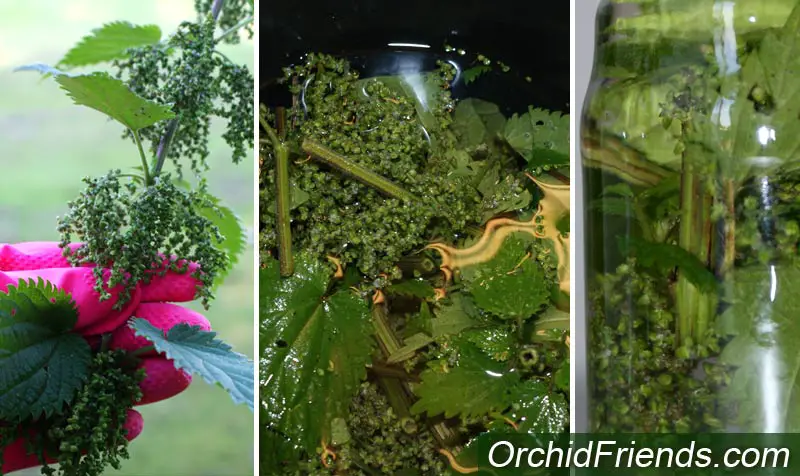 Recipe 3: "Banana water"
Instructions: Chop 4-5 banana peels to 1 gallon (4 liters) of water. Let soak for 3 days in a container out of direct sunlight (heat). Pour the concoction through a strainer to separate the chopped banana peels form the water. You only want the water, not the peels!
Note: I always use organic bananas to avoid any harsh pesticides (not just for orchid fertilizer, but for consumption too). The finished product should once again have the color of "weak tea", so dilute with clean water if the color is too dark. Use every two weeks or as needed. Banana peel fertilizer feeds and strengthens! It provides your orchids with potassium, phosphorus, nitrogen, magnesium and calcium!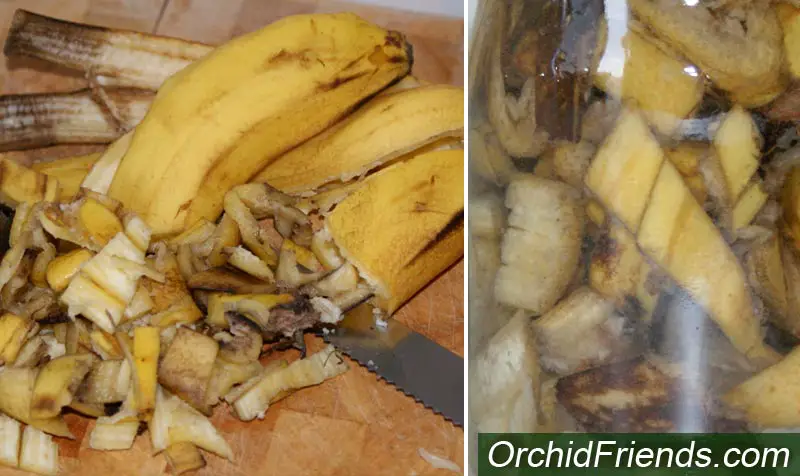 Recipe 4: "Tea water"
Instructions: Dip a normal tea bag in lukewarm water, until the water has a faint color. Any black tea is fine.
Note: Black tea contains nitrogen and also Tannic Acid, which is a great growth stimulator! Give every two weeks when watering your orchids, or as needed. You can prepare a bigger amount at once, or like me only enough for one watering at a time. I use this fertilizer to stimulate root growth!
Recipe 5: "Rice water"
Instructions: Wash (/soak & rinse) uncooked rice in water, e.g. 1 part rice and 3 parts water. (Or any amount you're preparing for dinner – you're aiming at a slightly 'cloudy' color) Pour out the water into a container (without the rice). Grind clean eggshells in a blender into fine powder. Sprinkle some in the rice water – e.g. half a teaspoon to ¼ gallon (1 liter) of water.
Note: If you don't have a blender, you can also just crush the eggshells. Let them soak in the rice wash water over night, and pour the mix through a strainer the next day. (Though you can keep the crushed eggshells in the mix too!) Rice water provides vitamins and eggshells calcium to the orchids. Give every two weeks or as needed.
Recipe 6: "Garlic Water"
Water
Garlic
Succinic acid (optional)
Instructions: Chop/mince 4-5 fresh garlic gloves and mix in 1/2 gallon (2 liters) of lukewarm water. Let soak overnight (24 hours). Next day, strain the garlic bits off the water. (Optional: Dissolve a Succinic acid pill in the liquid now, mix well). Your garlic water is ready to use.
Note: This is a great health-booster with antibacterial properties, so you can use it for stressed or struggling orchids. Also, it's a natural pest-fighter! I'd only use this occasionally, or when treating an issue (pest/health). There won't be any garlic smell left in the orchid potting mix afterward. When used with Succinic acid, it's supposed to improve the bloom quality. (Do not use during bloom though) You can buy Succinic acid pills in drug stores, as well as online.
Recipe 7: "Willow water"
Water
Willow (tree branches)
Instructions: Collect newer willow tree branches – as many as fit inside the pot you'll use. Use all the parts of the branches, you can slightly 'beat' or chop them up. Next, fill up the pot with water and bring it to a boil. Switch off the heat, and put as many willow branch pieces in the hot water as it fits. Put the lid on and let steep over night – or even up to several days. Once soaked, strain through a strainer. (You're using only the water, not the branch pieces)
Note: Willow tree contains indolebutyric acid, which is a plant hormone. It stimulates root growth. I let the branch pieces soak in warm water, but you can also do it without boiling the water – just let them soak in room temperature. Remember; the longer you soak the better! By "beating" or chopping the branches and leaves, you help release more of the hormone. This solution is great for all orchids' root-health, but especially for those in need of more roots!
Recipe 8: "Aspirin boost"
Instruction: Mix a 500 mg Aspirin tablet in ¼ gallon (1 liter) of lukewarm water. (Or: 1000 mg for ½ gallon / 2 liters) Make sure the tablet dissolves well in the water (you can crush the tablet into a fine powder before putting it in water). Mix well.
Note: Aspirin contains Salicylic acid, which is naturally found in trees like willow bark. It is a root growth booster, so use this recipe for orchids in need of growth. You can also use this recipe as a strength-booster for weak or sick orchids. Whether the orchid is fighting a disease, serious rotting issues, or pest infestation, this treatment can give them the needed boost to fight back. As a treatment-in-need (not preventive) give once a month.
Recipe 9: "Sweet water"
Water
Rice water
Banana peels
Molasses
Instructions: Chop 2 organic banana peels and leave them to soak in ½ gallon (2 liters) of water for 3 days. After this, pour the water through a fine strainer to separate the banana peels from the water. (You're only using the water, not the peel bits) Add 1 tea spoon of molasses in the water and ¼ gallon (1 liter) of rice wash water. Mix well. Give it to your orchids every two weeks as fertilizer or as needed.
Note: Sweeter ingredients can start to rot even in the fridge if kept too long, so only prepare amounts you know you'll use fast. You can always make a new batch!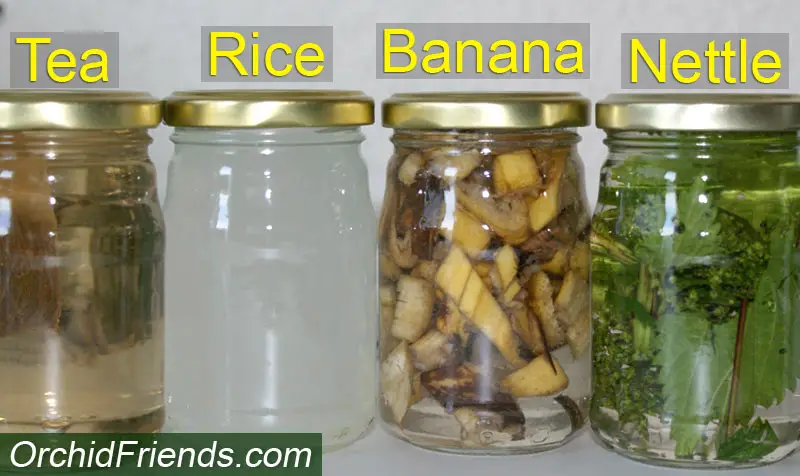 Final thoughts
As seen above, there are so many fertilizers you can easily prepare yourself at home for your orchids! Generally speaking, try not to overdo anything. Avoid mixtures that seem too strong in strength. With anything new you can first try it on only one or a few orchids, and see how it goes before giving it to all of your plants.
The listed ingredients in the above recipes are used among orchid keepers, so there's nothing dangerous there. And there are so many other ingredients too that you can try and experiment with! For example;
Potato peels, milk/buttermilk, fish power, seaweed, honey, cinnamon, crushed and dried fish/chicken bones, vitamin B1, etc.
You can get creative and make your own orchid food! See what you have at home and experiment with it – of course, while keeping in mind that less is more. 😉
Ready orchid fertilizers contain Nitrogen (N), Phosphorus (P), and Potassium (K), so you can find ingredients that contain those elements. (Balanced amounts)
Or, if making your own orchid fertilizer sounds too confusing to you, then luckily there are lots of ready ones in the market! 😊
Read more about orchid food HERE.
Thank you for reading! And happy fertilizing, orchid friends! 🌼