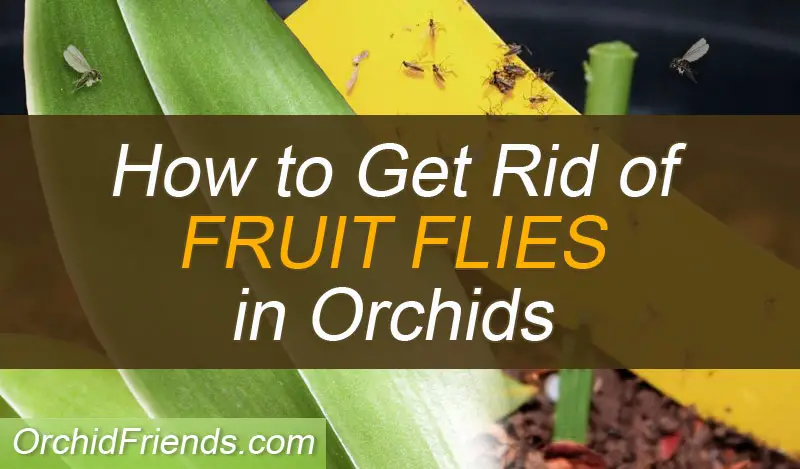 As an orchid enthusiast and blogger, I often hear this question – how do I get rid of fruit flies in orchids? It's really not unheard of to suddenly see small fruit flies flying around the plants. Seems like they come out of nowhere!
This might come as a surprise to you, but these 'fruit flies' aren't actually fruit flies, but fungus gnats! A pest that is annoying, and especially if you have a lot of them, but luckily they aren't the most harmful to the plants. Their larvae feeds on fungus in the potting medium.
The bugs come when the potting soil has been too moist for too long. This could be do to overwatering. But it could also be due to a pot and potting medium that simply takes too long to dry in-between the waterings. This constant humidity is a breeding ground for fungus gnats.
Let's explore in more detail below different ways to get rid of these pests in your house plants!
So how to get rid of fruit flies in orchids? There are several methods you can use to get rid of fruit flies, or fungus gnats as they are called.
Trap the fruit flies with a paper funnel

Trap the fruit flies with bowl traps

Prepare a mixture of water, rubbing alcohol, and mineral oil

Repot your orchid plants

Buy fruit fly traps

Buy a carnivorous plant
Another question I often hear is, why are fruit flies around my orchid plants? Over-fertilizing and overwatering your indoor orchid plants is in the long-run deadly. Orchid plants can quickly adapt to low nutrient conditions as long as the roots are in a well-drained potting medium.
What you need to know is that the more decayed the potting medium, the less breathable it is for the roots of your orchids. If your orchids are not healthy, you may notice an insect(s) hovering about. Popularly referred to as fruit flies, but in orchids, they are actually fungus gnats.
Seldom a problem for orchids grown outdoors, they can be a significant problem for orchids grown indoors. If the health of your indoor orchids is poor, then you make it easy for the fruit flies to infest your plants.
What attracts the fruit flies to your indoor orchid plants is the decaying matter in the potting soil. Just like leaving ripe fruits on your counter for too long increases the chances of fruit flies hovering about. Most conditions and decayed matter in your potted plants leads to the rise in fruit flies (fungus gnats).
Belonging to the gnat family of Sciaridae, they are a nuisance. Perhaps 1-2 of these gnats flying around isn't worth losing any sleep over, but if the number grows they can become extremely annoying! And not only by the windowsills, but the rest of the room where your indoor orchids and other plants are present. Fruit flies are common in the summer and spring during more humid weather conditions.
The good news is there are ways of getting rid of fungus gnats!
In this post, we discuss the different ways of getting rid of fruit flies in orchids.
Trap the Fruit Flies With a Paper Funnel
The first method involves trapping the fruit flies with a paper funnel. To get started with your trap, find a wine bottle or vase. You can also use a tall jar or old soda bottle. The bottle or vase will serve as the base of your trap.
What you need to know is that this method is efficient in trapping a large number of fruit flies. In this example, I will be using an old glass jar.
Once you have your old container of choice, fill it with fruit fly bait. Some of the baits I have used are apple cider vinegar (or any type of vinegar for that matter) and even soy sauce. Don't use sweet things, like fruit or juice to attract these gnats, as this will not work. You may wonder why? Even though fungus gnats look similar to fruit flies and are often confused with each other, they're different;
Fruit flies feed on sugar – Fungus gnats feed on fungus.
Create a simple paper funnel by rolling up a piece of paper. Tape the funnel to ensure it maintains its shape. Place the funnel inside the mouth of the vase/container. Make sure the narrow end is pointing down into the vase but not touching the bait.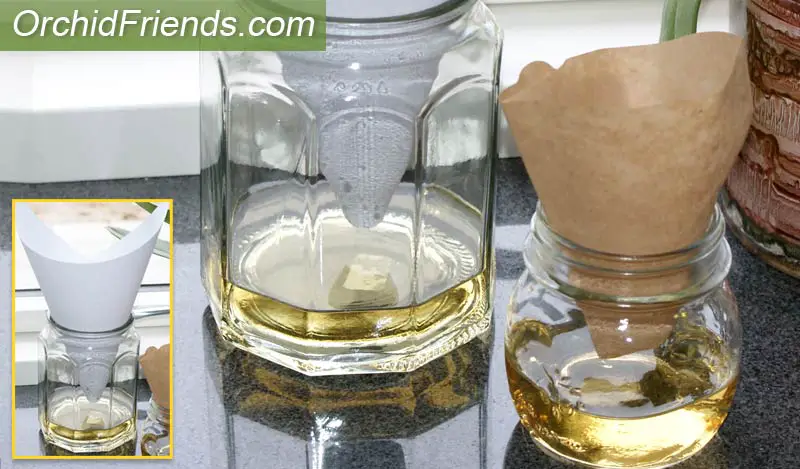 If you can't find a suitable paper to make a funnel, use a coffee filter. Simply poke a hole at the bottom of the filter using a knife or toothpick. Once you prepare your fruit fly trap, set it close to the infested area.
If you have several orchids spread around the house, you have to prepare more traps. Leave the traps overnight, and by the next day, you should find your trap filled with fungus gnats. If you don't see any gnats, I recommend that you prepare another trap and make sure the hole of the funnel is wide enough.
To kill the fungus gnats, prepare a mixture of warm water and soap. Pour your fruit fly trap into the mixture. The soap helps to reduce the surface tension of the water. As such, it makes the flies to drown.
Let the fruit flies sit in the mixture for one or two minutes before discarding the contents. In case the fruit flies are buzzing in the trap, take it outside before emptying the contents in the mixture of water and soap.
Rinse your vase/container and reuse it to make another trap.
Use a Bowl Trap to Get Rid of Fruit Flies
The second method is the use of a bowl trap. Instead of a vase, find a large bowl. In the bowl, add your bait.
Examples of baits to use are different types of vinegar. You can even try coriander seeds and white wine. This mixture works very well when you add white wine vinegar into it. It makes the mixture to be even more pungent.
Once your bait is ready, cover your large bowl with plastic wrap. Make sure the plastic wrap is very tight. If you struggle to make it stay on tightly, put a rubber band around it.
Using a toothpick or a sharp object of any kind, poke small holes in the plastic wrap. Try to keep the holes as small as possible. You may wonder why. Well, it helps to prevent the large fruit flies from escaping back out.
The point of the trap is to lure the fruit flies in and make it difficult for them to escape. To avoid making large holes, use a sharp toothpick – it slides through the plastic wrap quicker and easier, making small precise holes.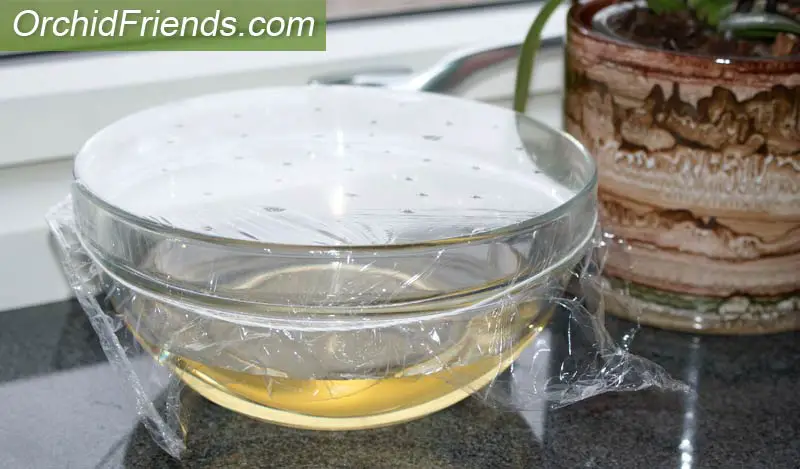 Set your trap close to the fruit fly-infested area. Allow your trap to sit overnight, and on the next day, you should find the fruit flies trapped inside the plastic wrap. Take your trap outdoors before emptying the contents.
Prepare a mixture of warm water and soap like before. Add the mixture in a jug. Remove the plastic wrap and pour the mixture into the bowl. Allow the mixture to sit for a minute or two before emptying the contents. Once you empty the contents, rinse the bowl and prepare another bait for another infested area in your home.
Prepare a Mixture of Water, Rubbing Alcohol, and Mineral Oil
A majority of homeowners often wonder – where do fruit flies come from? The sudden appearance of fruit flies in the rooms where the plants are confuses many people. In fact, many people believe that fruit flies appear from thin air.
Well, this is a fallacy. Fungus gnats, just as fruit flies, come from the outdoors. They enter a home through open windows and poorly screened doors. Unsuspecting visitors who bring you a new orchid as a gift can introduce them to your home too (most people don't know how to check orchids before buying them). Other sources include cleaning rags, garbage disposals, and drains.
To get rid of the fungus gnats in your home, prepare a mixture of water, rubbing alcohol, and mineral oil. Add the mixture in a spray bottle and spray your plants.
Simply point the spray bottle on the leaves of your orchid plants and spray – avoiding the crown of the of plant (you don't want any liquid to get in there, as it can quickly turn into crown rot if it doesn't dry properly!). You can put a piece of tissue or cotton wool in the crown to protect the plant.
When spraying orchids, I always do this in the bathroom to avoid making a mess. And I keep the plant more sideways or even upside down while I spray it, to ensure water doesn't go in the crown and the mid-section (collar) of the orchid.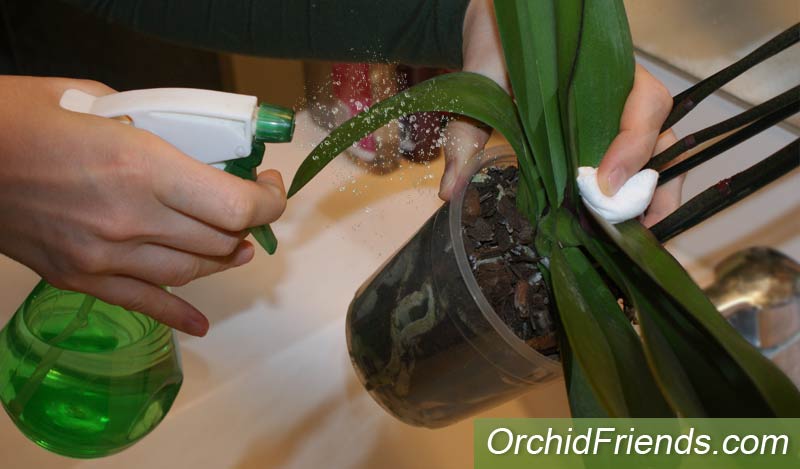 The rubbing alcohol helps to kill the fruit flies while the mineral oil gives the leaves of your orchid plants a nice shine. What you need to know is that the mineral oil can penetrate the hard-outer shell of mealy bugs, killing them.
So, if your orchid plants get infested with mealybugs, this solution will help you "kill two flies with one slap". After spraying the affected orchids, keep them away from other healthy orchids.
Remove any dead leaves and get in around the roots. Keep monitoring the contaminated plants for the next few weeks to ensure the infestation is completely gone.
Repot Your Orchid Plants
One-eighth of an inch in size, fungus gnats have six legs, small oval shape, and tan to black abdomen. There are three reasons why these gnats hang around your orchid.
Your potting mix is already broken down providing a haven for fungus gnats to lay eggs and the larvae to feed on the decaying mix

Your orchids have rotted roots which the fruit fly larvae feed on.

 Your orchid pots don't provide enough airflow and drainage to the roots and potting medium, making it a breeding ground for humidity.
For the sake of the orchids' health, inspect the plant and the roots. The first step is to check for the presence of adult fungus gnats. Look for them on the pot rim, flowers, leaves, and soil. But first and foremost, you should see them flying around the plants!
Adult fruit flies have clear to light gray wings. They also have long and slender legs with the antennae longer than its head. If you discover the presence of adult fungus gnats, then they have already laid eggs in the potting medium.
You can poke your finger in the surface of the potting medium – about 1-2 inches below the surface – do you see any moving larvae there? They're light brown in color and quite slim. If you're using clear plastic pots, then you might be able to see them through the pot easily!
Another thing to do with your orchid plants is to inspect the roots. If your orchid plants have squishy roots, then you know what the fungus gnat infestation has been feeding on! One of the best solutions to fix this, is simply to trim off all mushy roots and repot the plants in fresh, well-draining orchid potting medium.
And make sure you're using pots that have good drainage holes and added airholes around the sides – this will ensure the potting medium will dry well enough in-between the waterings in the future!
You need to look for a well-draining potting medium that is quick to dry and slow to decay. Some of the best soils contain slow decaying materials such as charcoal, fiber, or coconut chunks. Once you find the best soils with slow decaying organic materials, repot your orchids.
Allow the potting medium to dry out properly between watering. Do not overwater your medium as fungus gnat eggs and larvae thrive in warm, moist soil. If the soil is dry, the eggs and larvae will dry out and die.
After repotting your orchids, fertilize them monthly with a 30-10-10 orchid food. This will keep the plants healthy. Remember to follow the packaging instructions and do not overfeed your plants. To avoid attracting adult fruit flies again, trim dying or dead leaves and flowers.
And more importantly, make sure the orchid potting medium doesn't stay wet for too long periods of time. If this is the case, you can add air holes around the orchid pot, so increase airflow inside the pot.
Remove any dead vegetation from the potting medium surface immediately you notice it.
Buy Fruit Fly Traps
You can buy fruit fly traps online or at a local store near you. As an immediate solution, they are affordable and easy to use. One good example of fruit fly traps is the Drop-Ins Fruit Fly Traps.
These traps can capture an average of 2.2 times more fruit flies. With 180 days of continuous protection, each trap lasts 30 days. The traps have a secret attractant formula, which is extremely useful. Available in attractive designs, place the traps anywhere in your home.
The design is spill-proof, which keeps your kitchen surfaces and counters clean. To use the trap, place the trap on a stable flat surface. Using a toothpick or pin, pierce the top of the cone of the trap. Place the trap in an infested area for 30 days.
Once the infestation is gone or 30 days have elapsed, toss into your outdoor bin.
Another solution is yellow sticky straps. Available as eight by 6-inch dual-sided sheets, they help to capture insects more effectively thanks to their dual-sided strong glue. The sheets are 100% made from non-toxic material.
They are odor-free, waterproof, UV resistant, and long-lasting. Also, they will not dry out. To use the yellow sticky traps, remove the protective cover paper from the traps. Place the sheets tightly on the plastic holder and insert the holder into the potting medium in your orchids.
To achieve the best results, introduce the yellow sticky traps before an infestation. Remember, keep the yellow sticky traps away from children and pets. In case you accidentally touch the sticky glue, rub vegetable oil before washing with soap.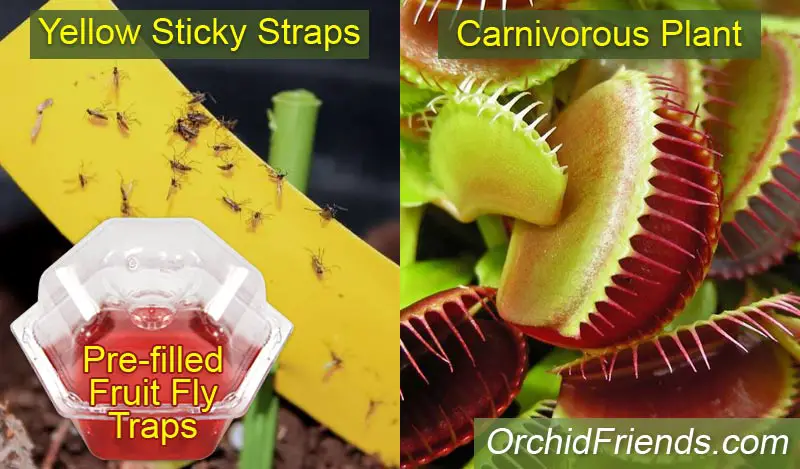 Buy a Carnivorous plant
This is a natural way to help get rid of fungus gnats. Many garden shops, or at least ones with wider selection carry carnivorous plants, like Venus Flytrap and Butterworts. Or you can buy them online. They're quite affordable these days and relatively easy to care for. Place one by your orchids, and it will catch any gnats that happen to land on them.
Even though having a carnivorous plant helps to reduce the amount of fungus gnats, it doesn't solve the cause itself. So get to the root of the problem – literally! Fungus gnats are a sign of too humid conditions inside the pot, so even if having a carnivorous plant helps, don't let it be your only remedy.
Final Thoughts
I hope this article has answered some of your questions regarding fruit flies – fungus gnats – in your house orchids! If you notice even one gnat flying around your plants, let this be your cue that something is wrong inside the pot.
Check the roots and potting medium immediately. By doing so, you ensure that your orchids and other plants do not fall victim to an infestation. Even though fungus gnats aren't an immediate threat, they can start to feed on the roots if there's not enough fungus to eat in the potting medium. Which, of course, is bad!
When I had an fungus gnat infestation a few years ago, it became more annoying than anything else. And it turned out that a new pot I was using for one of my orchids, was a kind that didn't allow the potting medium to dry out fast enough. (It took forever to dry!) This prolonged humidity of course quickly became a breeding ground for fungus gnats. Needless to say, I tossed that pot out!
So always remember that fungus gnats are a sign of humid conditions. If there are only a few gnats flying around, you can first try to prepare a fruit fly bait as recommended above. Or buy fruit fly traps such as the Yellow sticky traps from your local store – or a carnivorous plant! But ultimately, if the problem persists then just repot your orchid plants.
Remember, keep your orchids well maintained – correct watering, well-draining pots.. By doing so, you reduce the chances of a fungus gnat infestation.
Thank you so much for reading! And good luck with tackling fungus gnats!
Until next time, orchid friends. 🙂