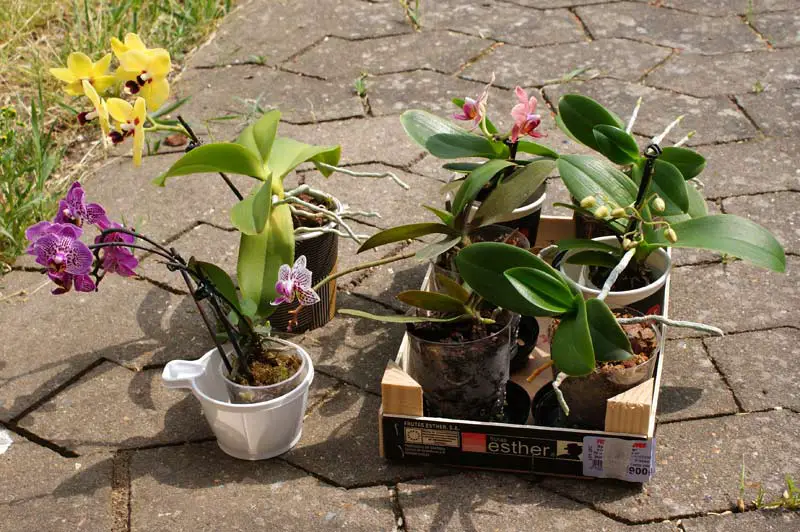 As an indoor grower, I have often wondered would my orchids do better outside. Would a more natural environment make the plants flourish more?
What are the dos and don'ts? What to take into consideration when planning to put the orchids outside – or is it even for everyone? Is it necessary? Who can do it?
Below, I have gathered some information for you, to help you decide if you can transfer your plants outside.
So can you leave your orchids outside? If you live in a climate where the temperature ranges between 50°-80°F, then yes you can grow your orchids outside. If the air is also humid where you live, that's even better.
Phalaenopsis orchids grow in South-East Asia, so they love warm and humid conditions. In USA, a place like Florida or New Orleans would be the perfect place to grow your orchids outside.
Even though these orchids are warm growers, they are quite adaptable to temperature changes. That said, when grown outside, if the temperature ever dropped below 45°F, you would have to bring the plants indoors or cover them with something warm to prevent cold damage.
Can I put my orchids outside in summer?
People, who live in a climate with cold winters, can still consider taking their orchids outside during spring and summer. So this is an option to take into consideration, even if you can't keep your plants outside throughout the whole year.
It's important to keep in mind though, that change in environment creates stress on the orchid. So a slow introduction period is recommended to give time for the plant to acclimatize.
If you keep your orchids on the windowsill, start out by opening the window more. This way the plants can start to adjust to the outside temperature. After this, you can put them outside for, let's say, half an hour at a time first.
From thereon, increase the time, before being able to leave them there full-time. Just make sure the plants are never in direct sunlight, and especially on a hot day. During a mild day, direct sunlight doesn't kill the plant.
I have at times put my orchids in the backyard to enjoy some sun and fresh air. Where I live winters are way too cold to keep orchids outside throughout the year, so I can do it only during spring and summer.
One thing to keep in mind though is that the longer your orchids stay outdoors, the more exposed they are to insects.
I found some red spider mites on my orchids, which I suspect came while the plants were placed outside. It's especially annoying because once the plants are brought back indoors, you bring in any possible pests along with them.
Pests can be a nightmare to get rid of, and they quickly take over your other indoor plants too – so keep this in mind, if you do decide to keep your orchids outside during summer!
Can I plant my orchids outside?
Most orchids are 'air plants' (epiphytes), which means they grow in trees. They need air circulation and good drainage around their roots to survive. Therefore, they can't be planted outside in the ground.
What you can do instead, though, is to hang them on your backyard trees. Just put them in baskets and hang them from a tree! Or mount them directly on tree trunks with some cotton string.
Put some moss around the roots and tie the plant firmly onto the tree. This would be the most natural way to grow orchids because this is how they live in nature too. (Just without the cotton string) 😉
If mounting or hanging baskets aren't your thing, you can keep them on an outdoor table of some kind. That's perhaps the simplest thing to do. Or you can build a plant wall, using hooks to attach the plants in plastic containers onto it. Plant walls can look stunning.
Where to put orchids in your home
What are some of the best places to put your orchids?
Orchids need bright light, but no direct sunshine. A good place to have them in the room is slightly away from the window but still close enough to get plenty of light. South and East-facing windows are recommended. North-facing windows are usually too dark to provide enough light for these orchids.
Because I live in an area where hot sun is a rarity, I can safely keep my orchids on the windowsills. During summer I have a thin cotton curtain down to shield them from the sun. If it's too hot, though, I move them away from the window.
During winter I let them be by the window. But I have heard some people move their orchids further in the room if it gets really cold outside. So keep checking your orchids and feel the temperature around them.
You can even put a thermometer where your orchids are, so you know for sure if it gets too hot or cold. Remember, 50°-80°F is the recommended temperature range for them.
One advantage I have found for growing orchids in a colder climate is that they tend to spike quite often. This is thanks to the frequent drop in night temperatures, which can happen even during summer here! Every cloud has a silver lining.
How much light do orchids need indoors?
Indoor orchid growers' biggest challenge is perhaps to provide the plants with sufficient light. In geeky terms they need 1000 to 1500 foot candles of light – but what that does mean?
Without a special machine to measure such figures, it's a waste of time to throw out numbers like that. So let's talk English.
In most locations, you're good with South and East-facing windows. There your orchids should receive plenty of light at least during spring and summer.
Now, if you live somewhere where the days are short during winter, I would recommend you to provide artificial light for your orchids.
You can find full-spectrum LED plant growing lights in shops. I have one that is marketed for reptiles, and works great for my orchids – all the flower spikes grow towards it during dark seasons. (Flower spikes always grow towards the strongest source of light)
They don't cost a lot of money, so it's not a big investment to buy one and see what it does to your orchids. I've also heard of people successfully growing orchids under normal fluorescent lights.
Signs that your indoor orchids may not be receiving enough light are;
Slow growth
Refusal to bloom
Short flower spikes
Few flowers on a spike
Dark green leaves
What leaf color can show about the amount of received light;
Not enough light: Dark green leaves
Too much light: Uneven yellowish leaves
Right amount of light: Light-to-medium green leaves
I know some people who use red and blue plant growing lights for their orchids – they work too. Red light promotes flowering and blue light vegetative growth.
The only minus with lights like this is that if your orchids are placed in your living room, they will make your whole room red or blue. This is not everyone's cup of tea, even if it works for the plants.
The growing lights should be switched on to mimic good daylight hours. You can switch them on in the morning, and switch them off late in the evening.
Let's say from 6 am to 9 pm. Or mimic tropical daylight hours, where the orchids originate from, which is 12 hours daylight and 12 hours darkness.
If you're using artificial light only to supplement natural sunlight during dark seasons, reduce the given amount of light as the season changes.
You need less artificial light as the days start to be longer again, and none during summer, because you can now rely on the sun.
Unless, of course, there's not enough natural sunlight where you live, or it can't access your orchid room even during summertime – then keep using the lights throughout the year, increasing the given amount during summer.
Do orchids need darkness?
While some orchid species need darkness, the type of orchid we're talking about (Phalaenopsis orchid) does not need darkness per se.
However, even though they can take 24 hours of daylight, it doesn't utilize the excessive amount of light. So to give an endless stream of light would be nothing but a waste of light, and therefore unnecessary. But do they need darkness? No, they don't need darkness.
Conclusion
I hope this article has helped you decide where to keep your orchids. There are so many ways to keep them.
I admire people who can grow their orchids outside throughout the year! But it's not for everyone – the only way we can change weather conditions is by relocating. And not everyone wants to or can do that.
But there's nothing wrong with growing orchids indoors either. My plants thrive indoors, even during cold winter days. So there's no right or wrong, better or worse – only different ways.
It brings me a lot of joy to have my plants in my living space, so I can be surrounded by them at all times.
With that, thank you for reading, orchid friends!