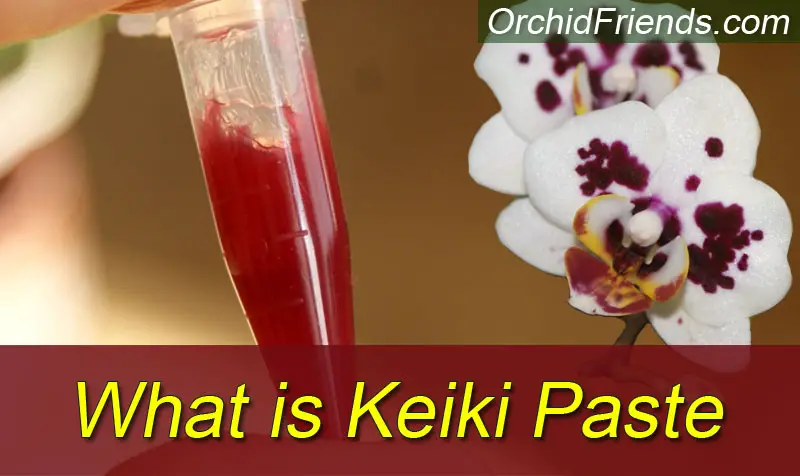 You may have heard the term 'keiki paste' being mentioned here and there among orchid enthusiasts. Maybe you've even seen some being sold on eBay etc? Fascinating looking little jars or snap-cap tubes, with bright colored thick paste inside of them…
But what is it? This is a question that gets asked more often than not, so I decided to write a blog post dedicated solely to 'keiki paste' – I hope it answers your questions!
So what is this mysterious orchid keiki paste? Keiki paste is a thick substance containing growth hormones. When applied on a Phalaenopsis orchid, it creates a biological response that makes the plant grow a keiki or flower spike.
KEIKIS
It's easy to get a Phalaenopsis orchid to grow a seedpod, but the seeds are challenging to germinate under home conditions. To do so you would need to create a laboratory-like setting with a sterile environment.
The shortcut to multiplying your orchid (instead of germination) is through keikis. A 'keiki' is like a 'baby' of the orchid. It's a new growth in the orchid, with its own leaves and roots, growing from the stem ('basal keiki') or spike ('keiki'). It's the identical clone of the 'mother' plant.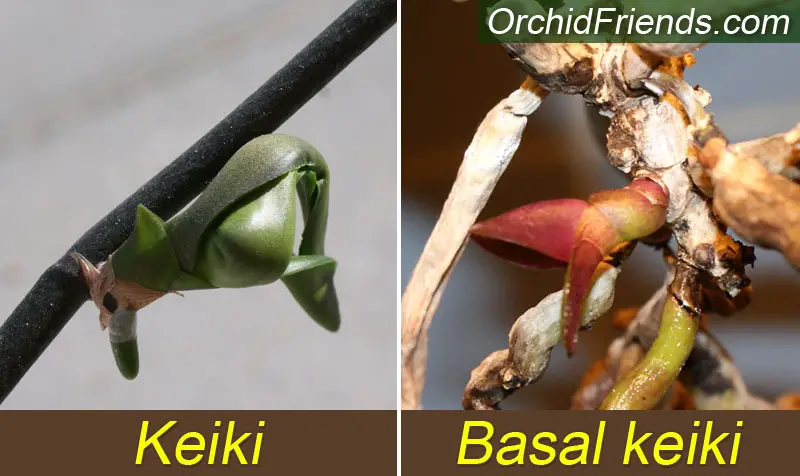 Keikis can occur when the mother plant is struggling. By creating a keiki, it has a chance to survive even if the mother plant dies. The keiki doesn't die with the mother plant, because it is a functioning individual plant with its own leaves and roots.
In nature, keikis are also born so the orchid can attach itself further around the surface it's living on. The keikis grow their own roots which give the plant more "hands" to hold on to the surface with. They also absorb more nutrients and hydration, so the plant as a whole becomes bigger and stronger.
WHAT IS KEIKI PASTE MADE OF
As I mentioned at the beginning of this article, keiki paste is made of different growth hormones that promote plant growth. Some of the used chemical compounds are;
6-Benzylaminopurine (BAP): Synthetic plant growth hormone that stimulates cell division.
Cinnamic Acid: An organic plant growth-promoting compound.
Thiamine HCI: Vitamin B1, promotes plant tissue growth.
Kinetin: Plant hormone that stimulates plant growth.
Indole-3-acetic acid (IAA): Natural plant hormone that induces cell division and cell elongation.
Some keiki pastes contain more hormones than others. The amount reflects the potency of the paste – the more hormones, the more potent the paste is. I'd recommend you start with the mildest one if you're not sure what to select.
HOW TO USE KEIKI PASTE
The paste is applied on the orchid's flower spike once the blooming is done. Trim the spike by cutting it below the withering flowers. You can seal the cut wound with ground cinnamon. (Avoid getting it on the leaves and roots)
Find the second or third lowest node on the spike. It has been noted that these lower nodes have a higher chance of giving you a keiki. The higher nodes are more likely to give you a secondary spike instead (more flowers).
Though keep in mind, keikis are never 100% guaranteed. We can try to manipulate the orchid's behavior with hormones, but ultimately we don't have full control over its behavior.
Once you have selected the node you would like a keiki to grow from, take keiki paste out of the container. Use a Q-tip or a long stick of some kind. Little paste goes a long way! Now gently apply it on the node. And that's it, you're done.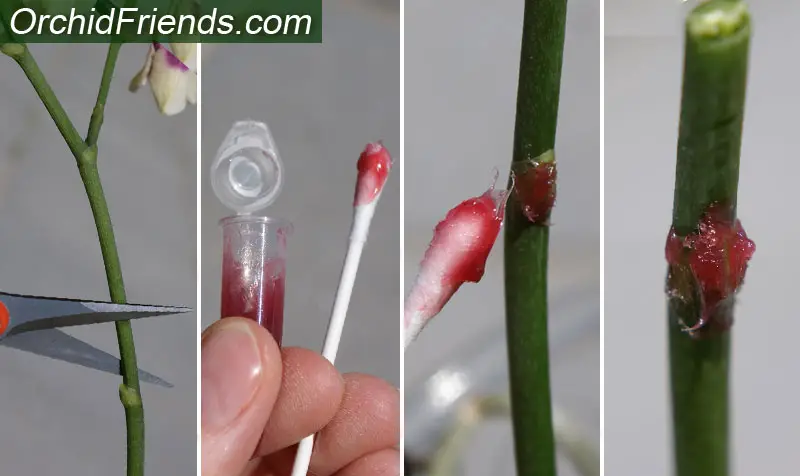 I'd recommend you to do this on only 1 node per orchid. If you do it on several nodes in one plant if successful, keikis might start to grow from all of them. It's very energy-consuming for the orchid to grow a keiki, let alone 3 or 4 of them, so one is more than enough for one plant!
A quick reminder; avoid getting keiki paste on bare skin. If it can manipulate a plant to grow keikis and spikes, then we can only imagine what it does on human skin. So please, use caution!
WHERE CAN YOU BUY KEIKI PASTE
You can find keiki paste online. Check a few of my suggestions or look at Amazon and eBay. But there are also many smaller websites that sell them – just type in "buy keiki paste" on Google search, and see what results pop up. I found several online sellers within minutes.
Keep in mind with the paste that little goes a long way. So if there are several jar sizes to choose from, just go with the smallest amount! That will last you a long time.
HOW LONG DOES IT TAKE FOR A KEIKI TO GROW
This is a good question. I'd say it takes about two weeks to see if the node will start to grow something. After this, the keiki's leaves will slowly start to form. Next, the roots will slowly appear. This process often takes several months.
My current keikis have been growing for 4 months now and they've just started to grow roots. But sometimes the growth can happen faster too, so it's really hard to put an exact time-line on it. There are several factors that play a part in it, such as the mother plant's condition, temperature, and available nutrients to the plant.
Speaking of nutrients. Provide fertilizer to the mother plant during this growth period, because it's now 'eating' for two! It's very energy-consuming to grow a keiki, so extra nutrients can make a big difference!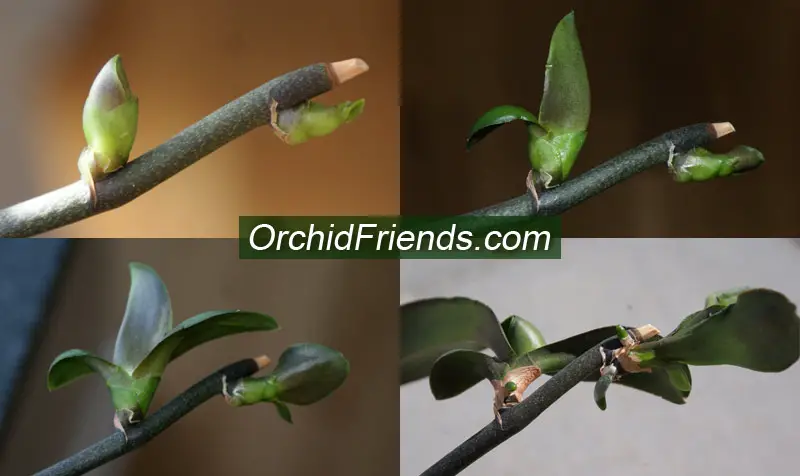 DO YOU HAVE TO DETACH A KEIKI FROM THE MOTHER PLANT?
Detaching your keiki is optional. First you need to let the keiki grow until it has formed enough roots and leaves, so it can survive by itself. A good thumb of rule is "3-3-3" – meaning; before detaching the keiki, it should have at least 3 leaves, and 3 roots that are each 3 inches long.
If you let the keiki to be attached to the mother plant for a longer time, the pros for this are; the keiki will grow faster this way. The cons; it's very energy-consuming for the mother plant to feed an extra 'mouth'. So ultimately it's a personal preference, there's no right or wrong.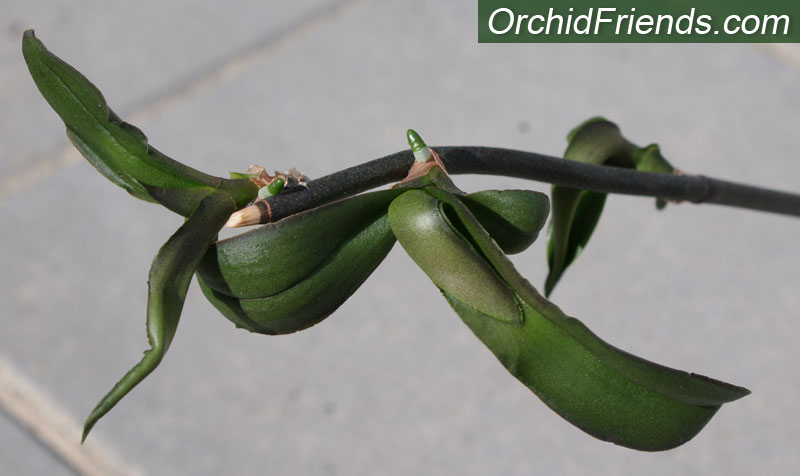 HOW TO SEPARATE A KEIKI FROM THE MOTHER PLANT
Once the keiki has grown big enough, you can separate it. Find a pot/container. It shouldn't be too big, but it should still provide enough space for the keiki's first year of growth.
Next, fill up the container with some sphagnum moss, or fine-grade orchid potting medium. Water it well. Next, with sterilized scissors or pruners, cut the spike from an inch above and below the keiki. (Yes, leaving it attached to a piece of the spike)
After this, place the keiki on the moist medium, gently pushing the roots deeper in. And that's it, you're done. From here on, keep an eye on the medium – it must stay slightly moist at all times. This is a delicate time for the keiki. Keep it in daylight, but always make sure it's out of reach of heat. And remember to give it mild fertilizer.
HOW TO MAKE A KEIKI WITHOUT KEIKI PASTE
It's hard to make keikis the natural way. One method you can try though is by cutting off a flower spike. (You can do this after the bloom when the flowers have withered)
Put it to stand or lay on moist moss, in a container of some kind. Then cover the whole container with Clingfilm, and puncture some air holes in it.
(If you don't have clingfilm or moss, you can even just leave the spike standing in a jar of water!)
This can sometimes prompt keiki growth. I have heard of people successfully doing it! Personally, though, my experiments failed. I did get some secondary branches this way, but no keikis!
There are some Phalaenopsis orchids in the market, such as Phalaenopsis Pulchra, that are prone to make keikis naturally. So if you want natural keikis, maybe this is a better option for you!
SHOULD I MESS WITH MOTHER NATURE?
Orchid keiki paste divides opinions among orchid lovers. Some people love to experiment with it, and others don't want to mess with Mother Nature. Orchids do their own thing when they want and need to do it.
Everything acquires energy; growing new spikes, leaves, roots, keikis… So this is really something you have to consider yourself, if you want to manipulate your orchid to produce keikis. There's no right or wrong.
I've used the paste a few times, but also gotten natural keikis from struggling orchids. So I'm impartial about the paste, I see both sides.
If you have a favorite orchid though, then maybe it would be a good idea to clone it. This way if something happens to it, then you have a double of it! Just in case.
It's good to remember that keikis are the exact same copy of the mother plant. So only clone the ones you want doubles of! Otherwise, you'll end up with too many of the same. 😉
FINAL WORDS
So there you go, dear orchid friends, that's what KEIKI PASTE is! If you decide to use it, then I wish you success with getting keikis! It is an interesting process to see unfold before your eyes if nothing else.
Do you have any questions about keikis that didn't get answered in this article? If yes, please ask away in the comment section below! Also, feel free to share your keiki experiences with me – would love to hear them!
Thank you for reading.
Until next time, take good care! 🌸