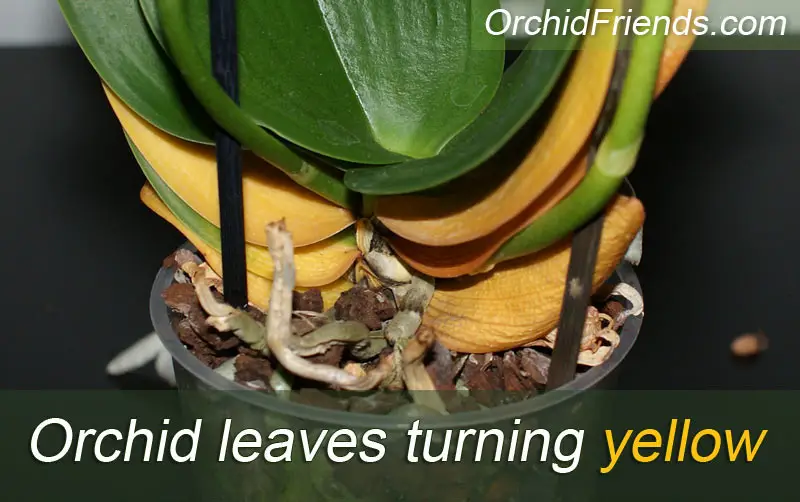 Yellowing leaves is something all new orchid keepers will experience, sooner or later. It can be upsetting when experienced for the first time, as people don't know what's causing it – fearing for the worst! Therefore questions about leaves turning yellow get asked a lot. And they're good questions to ask!
Leaf yellowing is inevitable to some degree, and there are several factors that can cause it. We'll discuss them in more detail below. First step is to diagnose the cause, before correct action can be taken.
Before we continue, though, I'd like to point out we're talking about Phalaenopsis orchids in this article. If you're not sure what type of orchid you have, you can make a quick Google image search to compare. Phalaenopsis (or "Moth") orchids are the most common household orchids, so the chances are that's the one you have.
So why are your orchid's leaves turning yellow? Leaf yellowing can be caused by too much watering, which has resulted in the roots to suffocate. Another possibility is crown or stem rot. Also sun burn can cause leaf discoloration, as do hidden pest problems and even nutritional deficiencies. Or, nothing is wrong with your orchid, and the plant is simply shedding its oldest leaves.
NATURAL OCCURRENCE
Let's start with the best scenario. Your orchid is simply shedding its oldest leaves. This is totally natural and leaves you with nothing to worry about. All orchids shed a bottom leaf or two every now and then.
How to know this is the case with your plant? The first thing to look at is the positioning of the yellowing leaves – are they the top or bottom leaves?
New leaves always grow from the crown of the orchid. And therefore the oldest leaves are always the ones in the bottom, below the other (newer) leaves. So if the yellowing leaves are in the bottom, you know they're the plant's oldest leaves.
Secondly, inspect the plant – how is the overall condition of your orchid? If the other leaves look nice and healthy, and maybe the orchid is even growing a new leaf, you're most likely just dealing with old leaves shedding.
What to do with these yellowing leaves? You can just let them be, as they will soon dry out and fall off naturally. But if they disturb you visually and you just want to get rid of them quickly, you can cut them off with sterilized scissors.
OVERWATERING
If you have been accidentally overwatering your orchid, it will make the roots to 'suffocate' with time. That's why it's essential to have good air circulation and drainage inside the pot, in addition to correct watering regimen.
When watering your orchid, think of it as a "rainforest shower" that passes through the root system. A passing shower, that won't leave the roots in standing water for long periods of time. This is how it would happen in nature too; just passing, not standing, water.
When the orchid has been overwatered, the potting medium never gets a chance to dry properly. The root system starts to suffocate, turning your orchid leaves yellow. This will ultimately kill your plant, if you don't take action to save it.
How to know this is the case with your orchid? Look inside the orchid pot. Is the potting medium soaking wet and humid? If the answer is yes, I recommend you take the orchid out of its pot and remove the old potting medium. Put the orchid aside and let the root system dry out for a few days.
After this you can repot your orchid in fresh potting medium. Make sure the new pot has good drainage holes in the bottom, and air holes on the sides. From here on, always make sure the potting medium has dried in-between waterings.
Tips for repotting your orchid
CROWN ROT & STEM ROT
Another cause for orchid leaves to turn yellow is rotting problems. The plant's crown or stem, or even both, might be rotting. This isn't unheard of and is caused by too much moisture.
Crown rot can easily start when a small amount of water gets in-between the leaves during watering. You might not even notice it if you're not careful. This hiding water struggles to evaporate in indoor environment, resulting slowly-but-surely to rotting.
The same with the stem; if it's in constant contact with wet potting medium, without ever getting a chance to dry, rotting will occur.
How to diagnose this is the case with your orchid? First thing to look at are the yellowing leaves; where is the yellowing starting from in the leaves? If it's starting from the 'heart' of the plant, towards the tip of the leaves, you're most likely dealing with crown or stem rot.
You can pull out the orchid from its pot to take a closer look at the crown and stem. Has either one (or both) turned black? Black means rotting.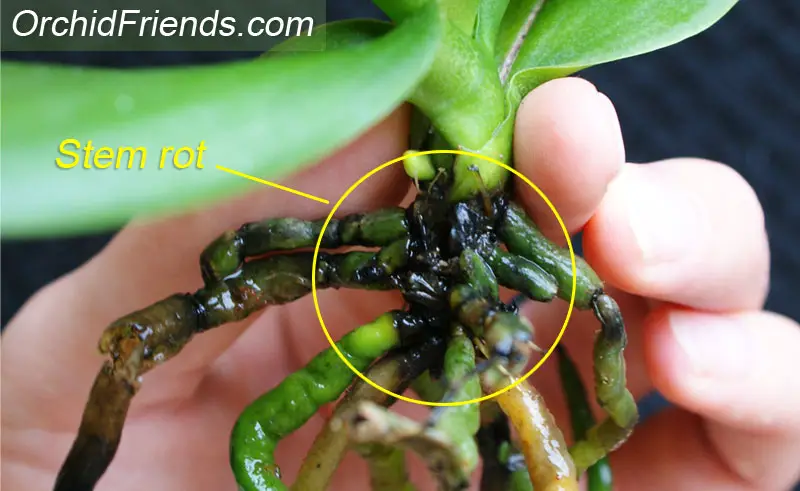 If this is the case with your orchid, remove the old potting medium. Cut out all the bad roots with sterilized scissors or pruners, and spray the plant with Hydrogen Peroxide 3%. Let air-dry for a moment.
Next, apply ground cinnamon on the rotted area – crown or stem – this limits the fungal infection and stops it from spreading. (Don't get any cinnamon on the roots, as it's dehydrating!)
Repot the plant as normal, but make sure the affected area isn't too close to the potting medium where it can get wet again. (In case of stem rot, you can leave extra space in-between the stem and the potting medium)
Water as required in the following months, and hope for the best. Not all orchids recover from crown or stem rot.
SUNBURN
Phalaenopsis orchids need a lot of sunlight, but that doesn't mean they can handle heat. They're very sensitive to high temperatures, and therefore should never stand in direct hot sun.
How to know you're dealing with a case of sunburn? There are two factors to check first;
-The placement of your orchid in your house
-Recent temperatures
If your orchid is standing on a windowsill in direct sunlight, it doesn't automatically mean it has suffered heat damage. This is because you might live in a climate where the temperatures don't get too high, or at least not too often.
But if the orchid has been on the windowsill during hot weather, there's a high possibility it has been sunburned!
Secondly, sunburned orchid leaves turn yellow, but it's a specific type of yellowing. They look more faded, flushed out, patchy or even "dotted".
How to fix this? The first best solution is PREVENTION. Never let your orchid stand in direct hot sun. You can put your hand by the orchid to check the temperate during warmer days – if the air feels noticeably hot, relocate your orchid before it can get damaged.
If, however, sunburn has already occurred, move your plant away from the sun immediately. A few feet away from its place might be enough, or in another room – doesn't matter, as long as it can escape the heat. (You can always put it back in its place, if you're only dealing with temporary high temps)
Make sure the orchid potting media is moist, and let the orchid be. You can't fix the yellowing of the leaves, but your main focus should be to save the plant's life. Once it starts to grow new leaves again, they will be green as normal.
PEST PROBLEMS
Another cause for yellowing leaves is pest problems. At early stages of infestation the orchid can appear perfectly normal. The obvious signs of struggle might not appear until the infestation has already become advanced.
There are different types of pests that can attack your orchid; red and false spider mites, white mealybugs, thrips, and scale. All will suck the life out of your orchid, spread quickly to your other house plants, and are a nightmare to get rid of.
How to know your orchid leaves are yellowing due to pest problems? Inspect the orchid. Look for any unusual signs; markings in the leaves, fine webbing on the plant, live insects on the leaves or in the potting medium.  Depending on the type of pest you can't always see them with naked eye, so I recommend you use a magnifying glass/endoscope.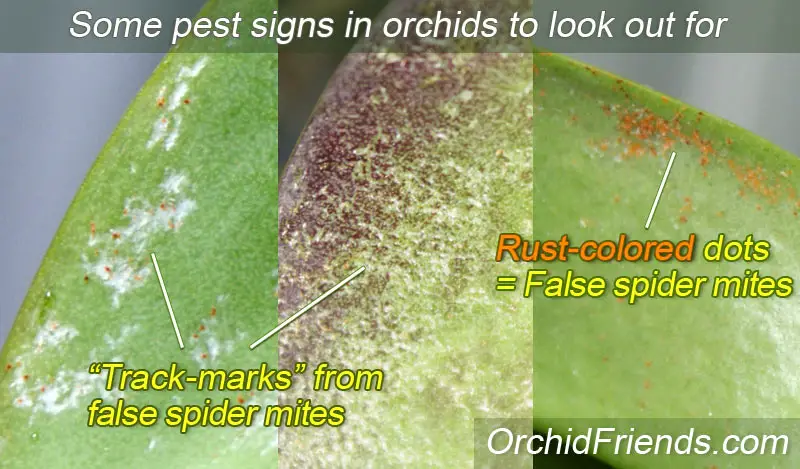 Another sign for hidden pest problems is the overall condition of your orchid. Has the plant struggled to grow lately? Has it not bloomed for a long time, or when it did were there deformed flowers? Has the plant seemed to lack the strength it once had? All these signs combined with yellowing leaves, might indicate a hidden pest problem.
If this is the case, the first thing to do is to isolate your plant. You don't want the pests to infest your other orchids, which can easily happen. So before anything else, put the plant in quarantine.
Not everyone wants to take on the fight with pests, and instead choose to throw out the infected plant. Others want to try to save it, no matter what. Ultimately, it's up to you.
You can opt for ready pest control products made for house plants, or home remedies. Natural or chemicals, there's a lot to choose from – with pros and cons.
I'll be writing about different pests and pest treatments in more detail in the near future!
NUTRITIONAL DEFICIENCIES
Lastly, yellowing of the leaves can also indicate nutritional deficiencies. Plants need magnesium and nitrogen to produce chlorophyll, which is the green pigment in the leaves. When not getting enough magnesium and/or nitrogen, discoloration starts to form in the plant's leaves.
To know if this is the case with your orchid; firstly, see where the yellowing occurs. Are only the tips, or the sides, of the leaves yellow? In case of magnesium or nitrogen deficiency, this is where the yellowing would occur.
Secondly, what are your fertilizing habits? If you do fertilize, then it's unlikely your orchid is suffering from nutritional deficiencies. But if you've never given any additional "food" to your orchid, this might well be what you're dealing with. In which case, you should consider to start fertilizing your orchid.
You can read more about fertilizers HERE
And about homemade fertilizers HERE
CONCLUSION
I hope this article has helped you detect what's causing your orchid leaves to turn yellow. As I mentioned above, all orchids shed their oldest leaves every now and then. So if only 1-2 of the bottom leaves are turning yellow, you have nothing to worry about.
All these other scenarios are "worst case scenarios", even though not that uncommon. Overall, I would advise you to always keep an eye on your orchids. If you see any signs of struggle or something out of the ordinary, it's better to look into it as quickly as possible. The sooner you detect the problem, the greater chance you have to prevent serious damage!
Generally speaking, yellowing orchid leaves are always a sign of something. By dropping leaves the plant is conserving energy. This might be the first visible sign that your orchid is under stress. Is the plant conserving energy, because it's weak or fighting something more sinister? Important aspects to keep in mind.
On that note, I thank you for reading! If you have any questions or comments, or even wishes for future topics, please leave a comment below.
Until next time, orchid friends!
Perhaps you want to learn more: