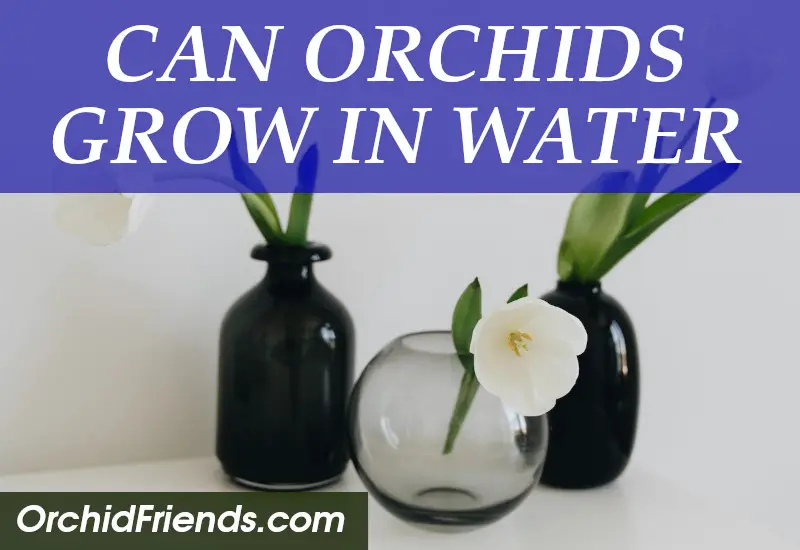 Whether you live in an urban environment or you are a nature lover, you might have heard of orchids and wondered whether they can grow in water. The good news is that the answer is yes. Orchids can be grown in water, in soil, and even in the air.
If you are interested in orchid water culture, read the specific article on Full Water Culture here.
Growing orchids without soil
Choosing to grow orchids without soil can be an interesting and rewarding experience. The benefits of this method usually outweigh the disadvantages. It is a simple process that makes it easier to care for orchids.
When growing orchids without soil, the grower needs to provide them with a medium that allows them to absorb water and nutrients. The type of medium is based on the type of orchid that they are growing.
For epiphytic orchids, you can use bark chips or sphagnum moss as the medium. You can also place them in a basket, trellis, or a hydroponic system.
In addition to the medium, you will also need a support system. You can use a trellis, wire, or a bamboo skewer. The support will allow the orchid to anchor, access nutrients, and be able to support its roots.
You can also use a drip irrigation system to water orchids without soil. The water will drip through the holes at the bottom of the container, onto the roots of the orchid. You should be able to check the water level regularly to ensure that the orchids are getting enough water.
You can also use a nutrient solution. The fertilizer must be mixed with three times the amount of water. This helps to prevent rot and pathogens from growing.
Growing orchids in pebbles
Whether you're growing orchids in pebbles or potting medium, it's important to understand how to properly water your plants. A healthy root system requires aeration and good drainage.
The first step to growing orchids in pebbles is to choose a potting medium that allows for good drainage and aeration. Lightweight expanded clay aggregate is often used. This material provides good drainage while retaining moisture.
Another common growing medium for orchids is perlite. This material, which is also called sponge rock, is a product of volcanic glass that has been exposed to high heat. Its aeration properties help to retain water, but it doesn't contribute any nutrients to the orchid plant.
Leca, which is short for lightweight expanded clay aggregate, is another popular potting medium. This material provides good drainage and aeration while also maintaining humidity. It's also available in an organic form.
You'll also want to choose a pot with drainage holes. Orchids need a water reservoir in the bottom of the pot to wick moisture to the plant roots. Watering too often or not thoroughly can damage the roots.
Orchids are slow growing plants. They will usually bloom once a year. But you can expect them to bloom more often if you keep them happy and satisfied.
Some orchids are more tolerant of growing in water than others. Those with fat pseudobulbs should be watered sparingly.
Growing orchids in air
Having the best growing environment for your orchids is important. Orchids need a balance between light, heat and humidity. If you are in a dry environment, your orchids will not grow well. They will die of disease or rot. If you live in an area with low humidity, you may want to put some artificial humidity into your orchid's environment.
The ideal humidity for most orchids is 60 to 80%. You can control the humidity by misting your orchids regularly. You can also add a humidity tray to your pot. If your orchids need more humidity, you can put a layer of moss or coarse bark in the bottom of the pot.
Orchids have air roots that grow out in all directions. These roots are much harder to recognize than soil roots. They are also called aerial roots. These roots are healthier than soil roots because they are exposed to air and sunlight.
Orchids are tropical plants that get their food and nutrients from the air. They also need a period of dormancy. Orchids are fertilized once a week during the summer and every two weeks during the winter. If your orchids are in water, you will need to check the water level frequently.
It is also important to water your orchids slowly. Watering your orchids too frequently can cause root rot. You should also avoid getting the leaves wet. This will weaken the orchid and make the water look dirty.
For complete in depth guides, check out the Beginner Section.
Perhaps you want to learn more: