The first time I unpotted an orchid, I was quite taken back by how different the roots looked like compared to the roots of 'normal' houseplants.
Because most orchids are 'air plants', plants that grow on trees, etc., that's what their roots are; different. Therefore they have their own needs and behavior. I will cover a handful of common questions about orchid roots below.
So, can you cut orchid roots? Yes, you can. Cut the roots with a sterilized pair of scissors, removing all the dry or mushy roots. Spray with hydrogen peroxide 3% when finished cutting, to disinfect the roots.
Cutting orchid roots is necessary in case of root problems, like rotting and dehydration. Removing all the bad roots is vital for the orchid to survive.
On the contrary, healthy roots should be left as they are, because they are the orchid's lifeline.
Even though trimming some healthy roots would not kill the orchid, it does create stress on the plant.
Fewer roots also decrease the amount of water the plant can absorb, so more the roots the better.
Trimming orchid air roots
The function of aerial roots is to absorb water and nutrients from the air and to cling on to surfaces (hence being 'air plants'). Some people love the look of air roots, but others find them visibly disturbing.
So can you trim air roots? The quick answer is: well, yes you can. Should you trim them? Preferably not.
Aerial roots can save your orchid from death if the plant suddenly loses all its roots inside the pot – which isn't unheard of.
Sometimes the plant can appear fine on the surface, but once you remove all the old potting media, you discover a bad case of root rot or dehydration, even a pest problem.
In which case, you're forced to trim all the dead roots, leaving the plant with few or even no roots at all. In cases like this, aerial roots are a savior!
How to grow orchid roots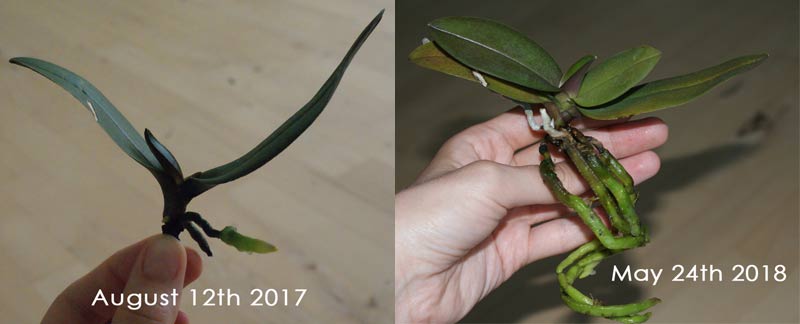 If you have an orchid with very few roots, and want to stimulate the plant's root growth, there are a few things you can do.
Firstly, if the plant has a flower spike or is starting to grow one, cut it off. This is because you want the plant to direct all its energy on growing roots, instead of a flower spike which requires tremendous energy.
Repot
To stimulate root growth, you can repot your orchid. Take it out of its old potting media, rinse or soak the roots, clean the root system, and put in fresh media in a clean container.
If the old pot has enough space for the roots, then there's no need to upsize – orchids like smaller space. In most cases the fresh potting media alone can jumpstart the orchid's root growth.
Just remember moisture is important, so make sure to keep watering your orchid as needed.
Moss
Another thing you can do is to put the orchid in moss-only. Moss retains a lot of moisture. Orchids with fewer roots have a higher need for humidity, so using a water-retentive medium is beneficial.
Put the plant in moss and keep it moist at all times. Choose a pot size that fits in the roots without too much extra space. Repot when the plant has grown new roots.
Water
Another way to stimulate root growth is to put the plant in a container with only water in it. Let only the roots touch the water. This method is called 'water culture'.
To provide extra humidity you can put a plastic bag over it, or place the entire plant in its container inside a see-through plastic box with a lid on.
This creates a humid environment which the plant can absorb humidity from through the leaves and aerial roots.
I have used this method with orchids that had only a few roots left if any.
Fertilizer
Another stimulant for root growth can be fertilizer. Use either a balanced fertilizer, like 20-20-20, which is a good general fertilizer. Or you can pick a fertilizer that contains more Phosphorus (P), which is responsible for root growth. (Phosphorus is the middle number of the three digits displayed in fertilizer bottles)
Tea
Lastly, if you prefer something more DIY, you can water your orchid with tea water. Yes, you heard it right! Using a normal tea bag (black tea), dip it in lukewarm water until the water has a faint color.
Black tea contains Tannic Acid which works as a growth stimulator. Add a few drops of lemon juice in the liquid (4-5 drops to 1 liter), and use it to water your orchid as normal.
What to do with overgrown orchid roots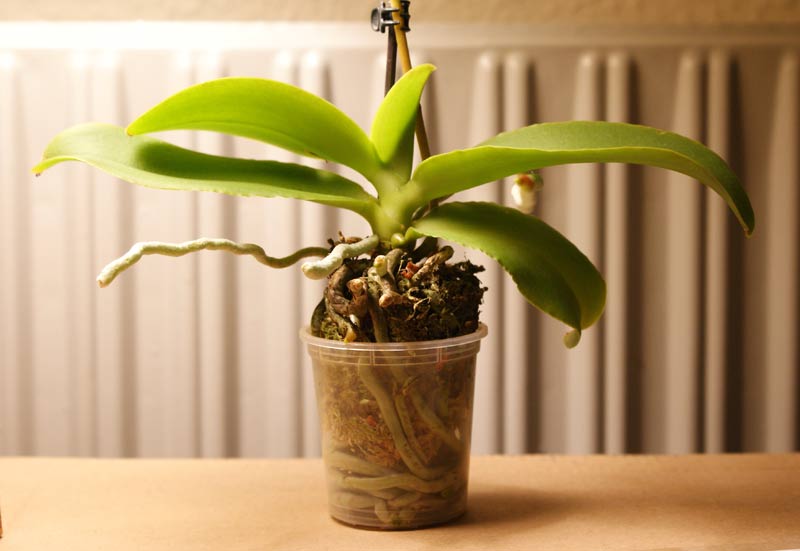 Is your orchid being pushed out of its pot, because of overgrown roots? This is only a good sign because it means your orchid is thriving. So there's nothing to panic about – quite the opposite!
Overgrown roots show it's time to repot your orchid. Even though orchids like less space, the roots need potting media around them, because that's where they absorb their nutrition from.
So if the overgrown roots are literally pushing the plant out of its pot, you can go ahead and repot it.
When repotting, trim off all the bad roots – if you lose many, the plant might fit back in the old pot. But if most or all the roots are fine, then choose a pot that is only slightly bigger than the old one.
With overgrown aerial roots, even though I have heard of people who trim them, I wouldn't advise to do this.
The aerial roots are natural and serve a purpose, so it's best to keep them for the sake of your orchid. Unless, of course, they have completely dried out, then you can safely cut them off.
Are your orchid roots turning yellow?
If you notice some of your orchid roots have turned yellow, or even white, don't worry – they're still perfectly healthy roots. The reason they're not green is simply that they haven't received light.
Orchid roots and leaves photosynthesize – photosynthesis produces chlorophyll, which contains the green pigment. This can happen only in the presence of light.
So when there's no light, photosynthesis can't occur, and therefore the production of chlorophyll can't occur, which would have turned the root or leaf green.
So if you have this kind of yellow or white roots, there's absolutely nothing to worry about. Leave them be; they're perfectly fine.
Can orchids grow without soil
To many orchid lovers' surprise, orchids can live without potting media too. This is a newer and a steadily growing way to keep orchids.
Instead of using potting media, the orchid is simply placed in a glass vase/container, letting only the roots touch the water. This is called 'Water Culture'.
Many people prefer this method because it eliminates pest problems and saves growers from the hassle of having to repot. And many do it purely for visual reasons.
Orchids can thrive in water culture, but it's not guaranteed all orchids take on to it. So if you are interested in trying it for yourself, test it with one or two plants first, before transferring them all.
And even then, some individual orchids might have to be transferred back to potting media, if they struggle in water culture.
There are two ways to do water culture; 'Full water culture' (FWC) and 'Semi-water culture' (SWC).
In 'full water culture', the plant's roots are in the water at all times. The water should cover only 1/3 or 1/4 of the roots.
Semi-water culture alternates between wet and dry days; the plant's roots are soaked in water over a few days, which after the water is poured out and the roots are kept dry for the next few days.
The amount of days is determined by the environment and the orchid, so every orchid grower finds their own schedule. But it could be two wet days, followed by two dry days; or five wet days, followed by two dry days. It depends on the growing environment, how long it takes for the roots to dry.
You can read more about water-culture HERE
Conclusion
I hope this article has answered some of your questions relating orchid roots. We talked about cutting the roots inside the pots, trimming aerial roots, ways to stimulate root growth, what to do with overgrown roots, keeping orchids without soil… There's so much to talk about roots!
Even though most people find orchid flowers the most exciting part of keeping orchids, roots truly determine your plant's overall well-being.
If the plant has a healthy and robust root system, the plant will be strong and healthy – and vice versa. So it's really important to keep an eye on the roots at all times, to prevent something terrible happening to them.
It's so common to have orchids lose their roots due to insufficient watering; too much or too little.
Even though an orchid without roots has a chance of being saved with the right care, you want to prevent root loss from happening in the first place.
So give as much time, love and care to the roots, as you would to the flowers.
On that note ~ thank you for reading, orchid friends!