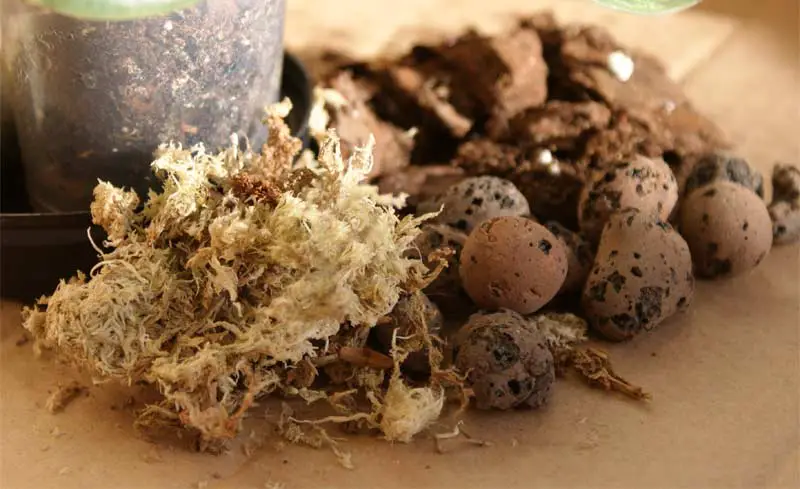 Orchids require a different type of potting medium than what our typical houseplants do. This is because orchids are epiphytes aka 'air plants' – plants that live on the surface of other plants, trees, and even rocks.
Typical houseplants are terrestrial plants; plants that grow from the ground. They are therefore potted in normal potting soil.
To pot an orchid in this kind of soil would ultimately suffocate its roots and kill the plant because soil cannot provide the needed airflow to the roots to survive.
Luckily, there are plenty of options to choose from for orchids.
So what soil to use for orchids?
For orchids you can use:
Fir bark
Sphagnum moss
Peat moss
Lava rocks
Perlite
Charcoal
Clay pebbles
Tree fern
Coconut fiber
Rocks.
A mix of these components can also be used for growing orchids.
The orchid potting medium
Before we explore different orchid potting mediums in more detail, let's remember one thing; epiphytes, 'air plants', need the potting medium for three purposes;
Stability
Moisture
Aeration
The medium should provide stability inside the pot for the orchid so that it can cling on to it with its roots.
The medium should hold enough moisture for the orchid to absorb. The medium should provide enough aeration (airflow), so the roots can still 'breath' (hence being air plants).
Once you remember these three points, it will make it much easier for you to decide on a new medium, and to ensure your orchid's wellbeing.
Different types of orchid potting mediums
Fir Bark
Fir bark is perhaps the most used potting medium. And no wonder; orchids do great in it. It is widely available and inexpensive.
It provides excellent drainage and airspaces. Fir bark is not the best for holding moisture so that it can acquire more frequent watering than other types of mediums. It is advised to soak it when watering.
Fir bark comes in different sized nuggets; small, medium and large. Smaller sized nuggets work best for smaller orchids and finer roots, like mini orchids. And the larger nuggets work best for larger plants/roots. If you're not sure what size to choose, you can opt for the medium size.
Being an organic medium, fir bark does decompose rather fast. Depending on your environment, orchids in fir bark need repotting every 1-2 years.
Sphagnum moss
Sphagnum moss is another favorite potting medium. It can retain air and a lot of water, so it's excellent for orchids that need more moisture.
I use sphagnum moss for my mini (phalaenopsis) orchids because they are in smaller pots and therefore need more frequent watering than 'normal' sized orchids.
There are different types of sphagnum moss available in the market – pick a good quality one. So far, the New Zealand variety has been most praised among the orchid growers.
The downside of sphagnum moss is that it degrades faster. It compresses over time which stops the airflow. Once this happens, you need to repot the plant.
However, it's also possible to prevent compression by adding something in the medium, some inorganic element that cannot compress, like Perlite.
Many orchid growers use sphagnum moss mixed with other orchid potting mediums, for its water-holding qualities.
It can also be used as a top layer, for mediums that tend to dry out too fast – the moss top layer will help hold some moisture in.
Though remember, depending on your environment, moss as a top layer can dry out rather fast, needing additional misting/watering.
Coconut husk – chunks and fiber
Coconut husk chunks provide a very water-retentive growing medium. Therefore it's great for plants that need extra moisture and is a great choice for dry growing environments.
The chunks are light in weight and provide enough airflow to the roots. It's important to soak and rinse them well to remove any salt residue before use.
Coconut husk fiber is also very water-retentive. The fiber doesn't drain as well as the chunks do, so it might be a good idea to mix something in the bottom of the pot when using only husk fiber.
I like to drop a few clay pebbles (Leca) in the bottom of the pot for extra drainage. Even a few packing peanuts will do.
Charcoal
Charcoal is a long-lasting organic growing medium for orchids. It's not water-retentive so if used is a single potting medium, it's best suited for very humid growing environments.
Charcoal is sold as different sized chunks, from fine to large. It is said to help with the PH levels, filter impurities, eliminate odors, and keep the soil 'sweet'.
Charcoal shouldn't be confused with coal. Charcoal used as the potting medium is basically carbonized wood.
Lava rock
Lava rock is a fast-draining orchid medium that never rots or decomposes. The rocks are quite heavy. They hold water but only a little.
Lava rocks are sold in different sizes. When selecting the right size for your orchids, remember; the larger the stone, the bigger the air pockets, the less moisture it retains.
They do have a slight cooling effect, so if you live in a very cold climate, that might be something to take into consideration when using lava rocks as a potting medium.
Inorganic growing mediums
Perlite is volcanic glass, that has been popped up like popcorn. They look like small sugar granules. They retain a lot of water and are very light-weight.
They cannot decompose or compress, making them ideal to prevent compression in organic growing mediums.
Because of Perlite's high water-retentiveness, it shouldn't be used as a single growing medium. Perlite can be re-used when boiled and sterilized.
Leca is expanded clay pebbles and Seramis clay granules. Both inorganic, meaning they won't decompose or compress.
They don't retain much water, and they provide good airflow and drainage.
Leca pebbles are often used in the bottom of an orchid potting medium, to ensure good drainage. Seramis is a more recent invention, but they can be used in the same way than Leca.
Can you make your own potting mix?
Sure! You can make your potting mix, and that's precisely what many orchid enthusiasts do.
Even though there are plenty of ready orchid potting mixes available, you might want the control of deciding what exactly goes into the mix.
Every growing environment is different, and your orchids have different needs, so it's a great idea to adjust the potting mix suitable specifically for your needs.
It might take some trial-and-error to find your perfect potting mix, but the process of it can be exciting and rewarding in the end.
What you want to do when designing your potting media, is to balance organic and water-retentive media, with inorganic and porous elements.
You want to create an ebb-and-flow of water and oxygen through the potting media. Stagnant is bad.
Organic media retains water and promotes beneficial bacteria and breakdown of fertilizers into usable compounds.
Inorganic elements prevent the media from collapsing, promoting airflow even when the media starts to break down.
What kind of pot for orchids?
Pots must have holes in the bottom, to allow the excess water to come out. Otherwise, water would get trapped in the pot after watering, leaving the roots to stand in water, which is a sure way to kill your orchid.
Some orchid pots can have holes also on the sides, to ensure good airflow inside the pot. You can buy ready pots like this, or make extra holes yourself.
With materials, all can be used; plastic, glass, porcelain, ceramic, even wood.
However, if you choose ceramic or porcelain, make sure the pot doesn't have any gloss inside of it.
Good pots for beginners are, without a doubt, clear plastic pots. This is because the clear plastic allows you to see inside the pot.
This will allow you to tell the exact time to water your orchid again, which otherwise can be a bit of a guessing game.
Clear pots are also helpful to detect possible pest problems, and they allow you to check on some of the roots without having to unpot.
Light-weight pots can be put inside decorative pots to make them steady. If your orchid media dries out too fast, a decorative pot will help by trapping humidity.
But if you're struggling with a too moist medium, then leave out the decorative pots so the media can dry out faster.
Conclusion
I hope this article has helped you with what kind of soil to use for orchids.
As mentioned above, there are several options to choose from – either to be used as a single potting medium or to be combined with others into one potting mix.
Every medium works differently, and every environment is different. Therefore there's no one right potting soil. You can try one, and if it doesn't work for you, try another!
And if you feel unsure about what to pick, or how to make your own, then opt for a ready orchid potting mix from your local store.
Thanks for reading and happy potting, orchids friends!
Perhaps you want to learn more: