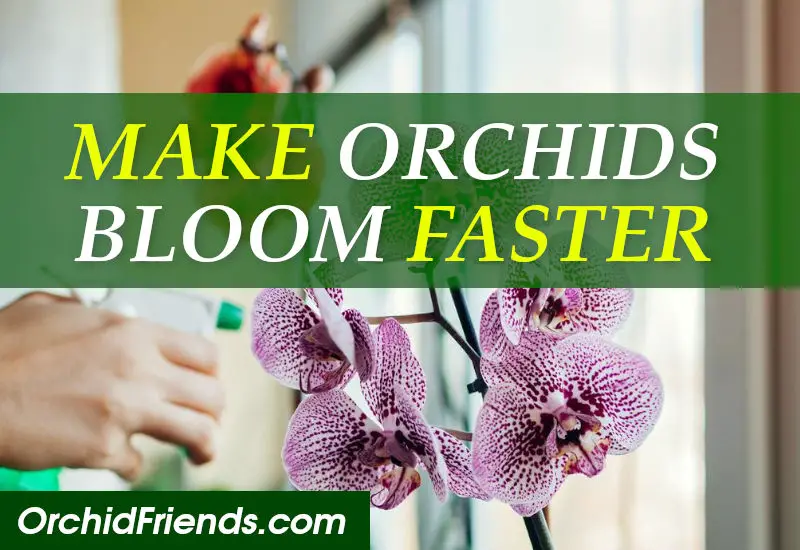 Having your orchid blooming at a faster rate can be a huge bonus. However, orchids require a certain amount of care to bloom. Aside from water, orchids require fertilizer to regenerate and develop new flowers.
When an orchid finishes flowering, it should rest and regain its resources. This means that it needs water, fertilizer, and light to bloom again. In order for your orchid to bloom, you need to place it in a room that has a lot of natural light. The more light your orchid receives, the more flowers it will potentially produce.
It is also recommended to remove dead spikes. These dead spikes will prevent the plant from retaining nutrients and energy. The spikes should be cut off one inch above the lowest node on the stem. Then, the plant will regain its growing potential.
If you want your orchid to bloom, you need to follow the natural light cycle as closely as possible. You can do this by placing your orchid in a room that receives full sunlight for 14 hours a day or more depending on where you live of course. Otherwise, some artificial lights can be useful.
Place your orchid near a window. When the temperature drops at night, you can place your orchid on the windowsill. However, you should always be careful not to leave your orchid in a too cold room.
How to Make Orchids Rebloom
During the dormancy phase, orchids need TLC. They require plenty of water and can benefit from cooler temperatures at night. Some orchids even appreciate a bit of high humidity.
Orchids also require a lot of micronutrients and nitrogen. In order to achieve the most beneficial growth, you should fertilize your orchid at least once a week. Use a balanced houseplant fertilizer at half strength. A nitrate-based nitrogen fertilizer is ideal.
Orchids are also very particular about how much light they receive. Some orchids like indirect light, while others like direct sun. When choosing a location for your orchid, make sure that the room is well-lit.
Orchids also have an optimal temperature range. They are sensitive to both fungal pathogens and bacteria. In the United States, they thrive in conditions around 55 degrees Fahrenheit (ca. 13 °C). If you live in a cooler climate, you may want to try placing your orchid next to a window.
To ensure that your orchid gets its fair share of sunlight, try placing it in a tray of moist pebbles. If your orchid has trouble with humidity, try misting it with a water bottle. This will raise the humidity around the plant and allow it to absorb more moisture. You could invest in a proper humidity tray or humidifier for more consistent results.
Another important part of making your orchid rebloom is to prune it. This isn't just for looks, but it will also make it more able to grow new flower spikes. If your orchid is suffering from a brown spike, you should probably cut it down to the ground.
TIP: Check out Irene's step-by-step guide on how to grow orchids.
For complete in depth guides, check out the Beginner Section.