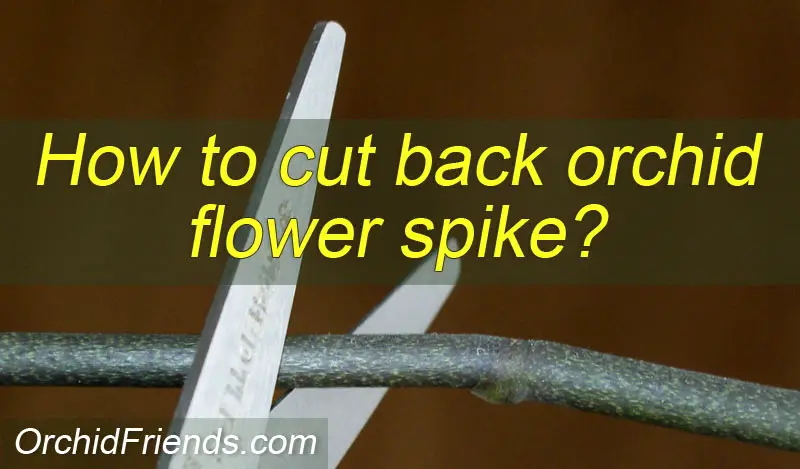 Let's be honest, it's the flowers in Phalaenopsis orchids that make us love these plants so much. Or at least that's how we get into them in the first place! Of course with time we learn there's more to these orchids than just the flowers; the leaves and roots have a life of their own, and are fascinating to watch grow too… The flowers are just one part of the plant!
People who see orchids as plants and not just as flowers don't treat them as disposable, but keep caring for them even after the plant has withered all its flowers. Once all the flowers are gone we're left with the old flower spike, so let's discuss what to do with it below.
How to cut back the orchid flower spike?
You can either cut out the whole spike or trim back only a part of it in hopes of new flowers.
1. To cut back totally; using sterilized scissors/pruners cut the spike from as close to the base as possible.
2. To trim back the spike partially; with sterilized scissors/pruners cut from an inch above the highest node, and seal the cut wound with ground cinnamon.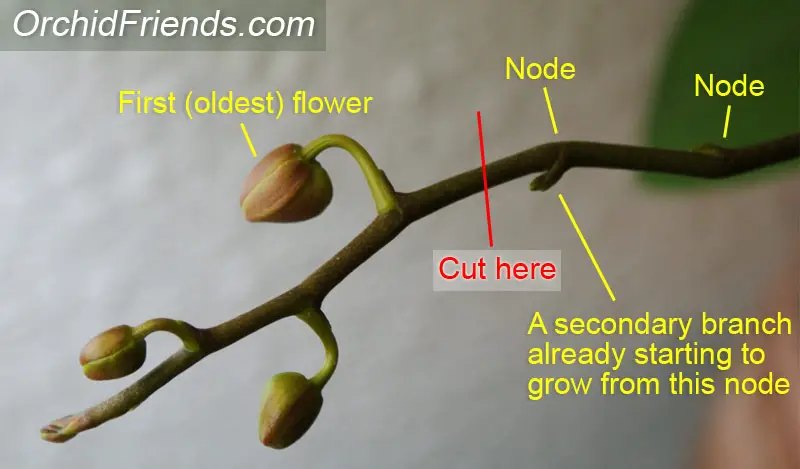 A spike that has already turned totally brown and dry can't yield any new flowers, so you can just totally cut it off. Do this at the base of the spike – as close to the crown as possible. Use sterilized scissors or pruners. Cut it off and that's all you need to do.
Now, if the spike has started to turn brown only at the tip, there's still a chance to get more flowers from it. Inspect the spike; see the individual spots where the flowers grew from; below them, you can see little 'nodes' throughout the spike. These nodes have a chance of growing a secondary branch, which will yield new flowers.
What you need to do is to find the highest node in the spike – it's located below the spot where the oldest (first) flower grew from. Using sterilized scissors or pruners, cut the spike from an inch (or so) above this node. Take some ground cinnamon and tap some of it on the cut wound – this will kill bacteria and help close up the wound faster. (Don't let any cinnamon fall on the leaves and roots – it's dehydrating!)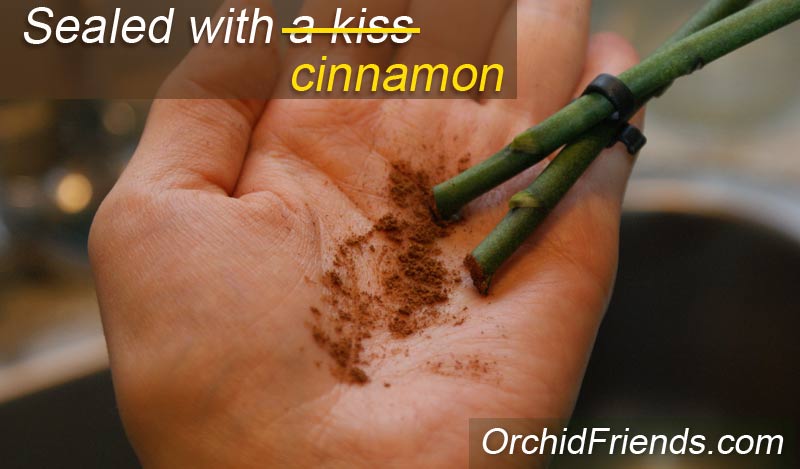 Next, wait and see if the node will start to grow a secondary branch. This can take weeks, so be patient! If no new growth appears in the node, even after a long time, and you're tired of the bare spike sticking out, then just cut it off totally from the base.
At this point I'd like to remind you something about flowers spikes. It takes a lot of energy for an orchid to grow and maintain flower spikes. So keep this in mind when your orchid has finished blooming – do you want to encourage your orchid to make more flowers, or it to reserve its energy to something else?  When the blooming is finished orchids go into vegetative stage – this is the time when new leaves and roots start to grow.
Leaves and roots are the lifeline of an orchid, so this vegetative stage is important – more important (even if not as beautiful) than the blooming stage! If your orchid is in good health and you want more flowers, then go ahead and try to make it rebloom.
But if your orchid is tired and struggling, perhaps doesn't have many leaves or roots, and it has already produced many flowers, then it's better to cut off the flower spike so the plant can start to focus on growing new leaves and roots instead!
HOW TO GET MULTIPLE STEMS ON AN ORCHID
Some Phalaenopsis orchids grow several flower spikes at once, and others only one. I get asked every now and then what causes this, and how to make the orchid grow multiple spikes at once.
Unfortunately, you can't force your orchid to grow several spikes at a time. It can be simply down to genetics – you might have a type of Phalaenopsis orchid on your hands that rarely grows multiple spikes at once, or vice versa.
If multiple spikes are something you really wish to have, then I'd recommend buying an orchid that already has several spikes growing. Even though not guaranteed (!), I've noticed these orchids sometimes grow multiple flower spikes in the future too.
However, some greenhouses pump their orchids with hormones to make them grow more flowers and multiple spikes – meaning, they won't keep doing that in the future, so don't be disappointed!
There are some Phalaenopsis orchids with an ID (identification) that are known to grow multiple spikes at once, like "Mini Mark". This orchid has an orange lip and white petals with orange freckles – very pretty flowers! This orchid can be quite hard to find, but you can always try to search online for one.
Another worthy mention is "Equestris" –type Phalaenopsis orchids. They are impressive bloomers and have pretty flowers that come in different colors. Even though external factors play a part in the amount of flowers and spikes too, this type of orchid is worth a try if you're after multiple spikes.
On that note; aside from genetics, also the conditions of your orchid play a factor in the amount of flower spikes. With this I mean the amount of light, available energy, and the overall health of the plant;
Make sure your orchid gets enough nutrition, which is obtained from the potting medium, water and added fertilizer.
Make sure your orchid gets enough daylight. (Supplement with artificial lights if needed)
A sick orchid won't start to grow multiple spikes, because it doesn't have the needed energy for it – it's energy consuming to grow spikes! So make sure your orchid is healthy and in good condition.
HOW TO MAKE ORCHID STEMS GROW STRAIGHT
Orchid flower spikes (or 'stems') always grow towards the strongest source of light. So if the strongest light to the orchid is coming from above, it will grow the spike upwards. If the strongest light is coming from its left side, it will grow the spike to the left – etc!
The only way to fully control how the spike grows is by staking it. For this you need;
Stakes
Clips or twist ties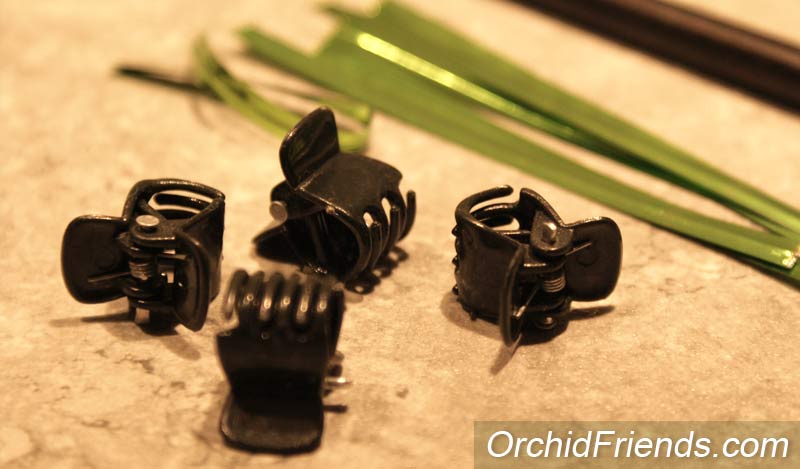 When a new spike has started to grow it's still bendable, so start staking it early on before the spike starts to harden! Trying to stake a hard spike can easily make it snap.
First, let the spike grow a few inches, and then put a stake right next to it. Stick it gently in the potting medium, avoiding damaging the roots. Push it deep enough so it stands firmly. Next, take a clip or a twist tie of your choosing, and gently attach the spike to the stake with it.
Leave the spike be so it can grow more, and add new clips/twist ties as the spike gets longer. This way you have full control over the flower spike's growth. Stop staking the spike before it starts to grow the part where the flowers come from – this part will hang in the air naturally.
If you don't want to stake your flower spike, but still want it to grow straight, then do not move the orchid pot while the spike is still growing. This is because the spike will keep growing towards the same direction regardless – if you move the pot, even just a little bit, the spike will keep growing towards the same direction but now from a different angle, which results into a crooked or askew spike – even zigzag if you've been moving the pot a lot!
It's also good to remember that some orchid flower spikes grow very long, so make sure there's enough space around your orchid when a new spike starts to grow. If your orchid is on a windowsill an unstaked spike can quickly run out of space and hit the window – which after you're forced to move the pot to give the spike more growing space! This moving prevents you from getting that nice straight flower spike you wanted.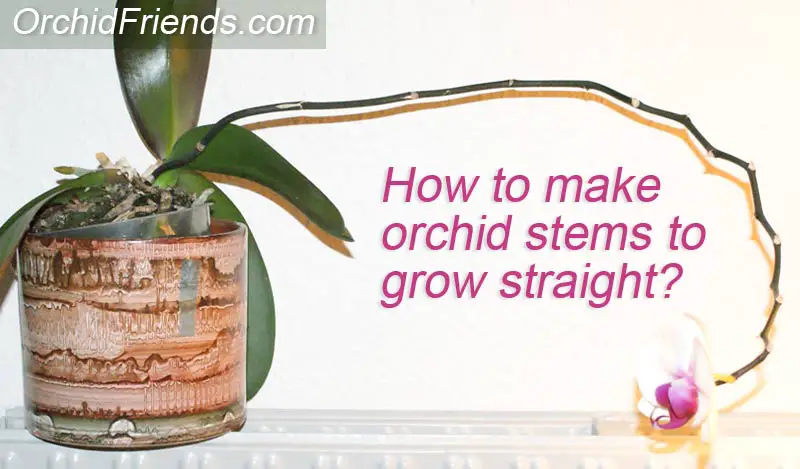 HOW LONG DOES AN ORCHID SPIKE TAKE TO GROW?
It's always exciting to find a new flower spike arising from in-between the orchid leaves! But this is also when the waiting game starts, so please – be patient! (You'll soon discover, if you haven't already, that orchids teach us exactly that: patience!) 😉
All Phalaenopsis orchids are different and there are several external factors that affect the speed of the spike's growth – like temperature, for example; orchids' metabolism is slower in colder temperature, which results into slower growth. But a drop in nightly temperature is needed to prompt spike growth to begin with, so cooler temperatures aren't a bad thing!
Generally speaking, the whole process – from the tiny spike peeking out all the way to the finished blooming stage – takes around 2-3 months.
Once the spike has finished growing, you have the blooms to enjoy for about 2 months or even up to several months – this, again, varies greatly from orchid to orchid.
WHAT IS AN 'ORCHID SPIKE'?
I probably should have mentioned this already in the beginning of this article, but if you're bran new to orchids, you might not even know what an 'orchid spike' is! And that's okay, we've all been there! Orchid spike – also known as 'flower spike' or 'stem' – is the part of the orchid where the flowers and buds grow in.
Phalaenopsis orchids grow new spikes once or twice a year. When the spike is done blooming and all the flowers have dried up and fallen off, the spike starts to wither away and die. After this the plant will go into "vegetative stage", during which they grow new leaves and roots. When it's time for the orchid to bloom again, new spikes will arise.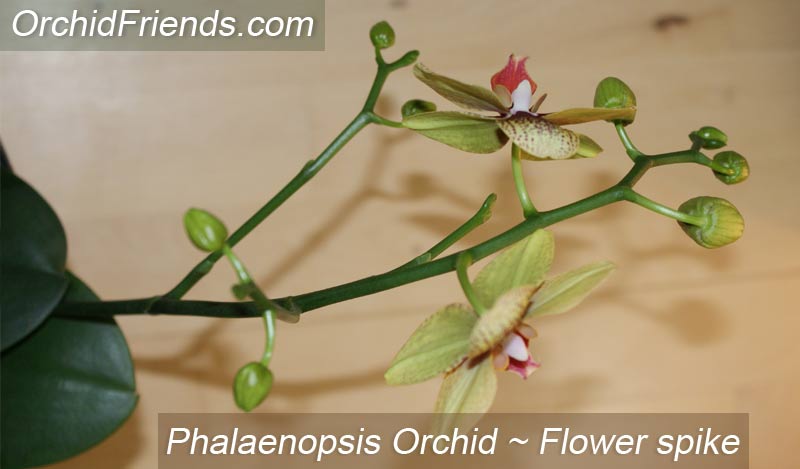 CAN YOU REPLANT AN ORCHID STEM?
If you accidentally broke off your flower spike and are now wondering if you could replant it – the answer is; no. With Phalaenopsis (or 'Moth') orchids it's not possible to propagate them like this.
Of course you can leave the broken flower spike standing in a glass of water, and see if it would make flowers – sometimes they do, sometimes not. But either way, it doesn't take much effort to have them standing in water, so it's worth a try if you're interested to see what happens. It can take months, though!
If the broken spike was already in full bloom, then absolutely put it in water, so you can enjoy the blooms longer! It's always a shame when a flower spike breaks – it has happened to most (if not all) of us. Luckily there will be new flower spikes in the future, so it's not the end of the world.
FINAL THOUGHTS
I hope this article has answered some of your questions about orchid flower spikes! I have previously written about how to make an orchid grow flower spikes, so please do read that article if you haven't read it yet! Also if you've experienced a "bud blast" (all the flowers falling off at once), it's explained there too.
If you have any questions about orchid flowers and spikes – or about anything else regarding phalaenopsis orchids – you're more than welcome to ask away in the comment section below! I do read all the comments and reply to questions, and I can even cover requested topics in future articles.
I'd also like to hear about your experiences with orchid flowers – how long do the blooms generally last in your plants, and how many times do your orchids bloom annually?
Thank you for reading! Until next time, enjoy your orchid flower spikes! 🙂