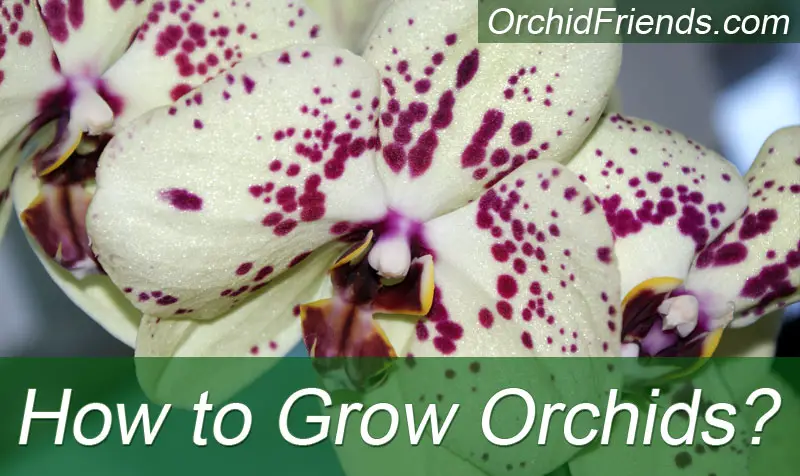 The Phalaenopsis orchid is the easiest type of orchid to care for. For this reason, they're often referred to as the perfect "Beginner orchid".
Even though caring for them is easy, many people struggle to keep them alive. And that's understandable – if you don't know a plant's dos-and-don'ts, then how can you keep it alive? We've all been there – including me!
So I've gathered the cornerstones for growing Phalaenopsis orchids below. If you master these steps, you're guaranteed to grow orchids successfully! On that note, let's get started!
To grow orchids successfully:  The right placement in the house; enough daylight without being able to burn or freeze. The correct watering; don't water again until the potting medium has dried. Use pots that allow enough airflow and water drainage. Suitable potting medium; use only kinds that Phalaenopsis orchids can grow in. Provide enough humidity. Repot every few years. Prompt a new flower spike with a drop in nightly temperature. Trim back spikes that are withering. Fertilize your plants when necessary. Practice safe handling, aka sanitation.
PLACEMENT
The first thing to do with a brand new orchid is to find a place for it in your house. Orchids need plenty of daylight, so make sure they're as close to the light source (i.e. window – if not artificial lighting) as possible.
You want the orchid to receive enough daylight, but you need to make sure it doesn't stand in a place with drastic temperature changes. With this I mean hot sun, cool drafts, and freezing air. You want to avoid any extremes, hot or cold.
Temperature-wise think of it like this; if the room temperature is comfortable for you, then it's comfortable for your orchid too. If you live in a colder climate, don't let the room temperature drop below 50-60°F (10-15°C) – that would be too cold for you too.
If you feel like there's not enough natural daylight, even on East- and South-facing windows, then supplement with artificial lighting. Plant-growth lamps, LED light bulbs, and Full-spectrum lights can a savior!
It's OK to move the orchid away from its usual place if the weather changes suddenly (or during hotter seasons) – just a few feet further in the room can be enough. Just make it out of reach of the beaming sun rays!
So let's recap; keep it lit, comfortable temperatures, no extremes of any kind!
WATERING
The correct watering of your orchid is very important! The roots start to rot quickly if they stand in too much moisture for long periods of time. On the contrary, if the roots don't get enough water they quickly start to dry out. Over-watering and under-watering are the biggest downfalls for many people.
Phalaenopsis orchids normally come in a clear plastic pot. If you're still learning about orchids, I'd recommend you keep the orchid in this pot. The clear plastic allows you to see the potting mix inside, making it easy to know when it's time to water again!
The time in-between watering varies depending on the season – during hotter seasons the potting mix will dry out faster, and during colder seasons slower.
This is what you need to do; lift up the orchid in its pot and look at the potting mix through the plastic – is it completely dry yet? Is the bottom part still moist? Is there humidity in the pot?
The potting mix starts to dry out from the top, towards the bottom. This is why you need to see the bottom part of the medium, even if the surface looks dry. If it's still moist/wet, then let it dry out a little more. You'd want it to be just about dry – not necessarily completely dry, but just there when you can see it has dried up.
This is when you need to water again. The roots have gotten the needed 'breather' in-between watering! Constant moisture without 'breathers' ultimately suffocates and kills the roots.
In addition to making sure not to water too often, also check there's no standing water inside the decorative pot! Sometimes leftover water from watering goes there, and builds up over time, leaving the roots to soak in water.
Use lukewarm water to water your orchid. Too cold or hot water will shock the roots. So if the water temperature feels comfortable on your skin, then it's fine for the orchid too.
I normally use tap water for watering, but you can use any type of water; rain, distilled, even well!
When watering your orchid, please make sure not to get any water on the plant itself. If water gets inside the crown, it can get trapped there and turn into rot over time. So always water with caution – do not just pour it over the plant, like you could do with other house plants. Orchids are different. 😊
My favorite way to water is from below. I put the orchid to stand in the sink or a container of some kind, and then fill it up with water – about halfway up the pot. After this, I leave the orchid standing there, from 15 minutes even up to an hour. Just give the bark pieces enough time to soak up the water.
Once the soaking is done, pour out the excess water and let the orchid stand aside for a while. You want the excess water to drip out from the pot. After this you can put the orchid back in its place.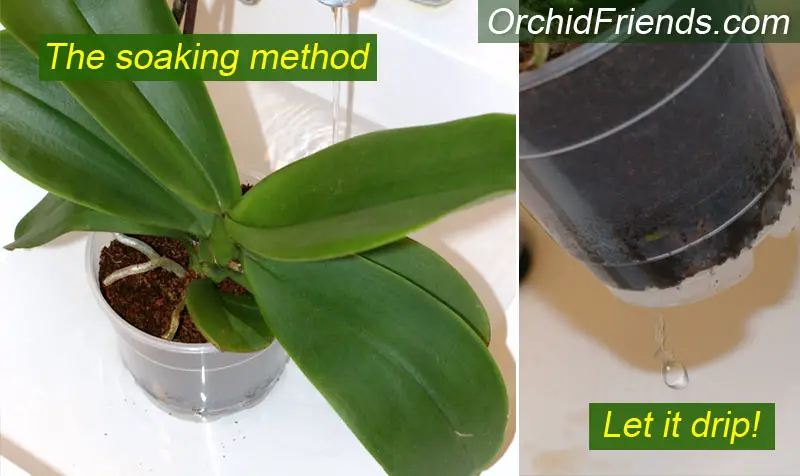 For more info about watering, please see here.
So let's recap; let the potting medium dry in-between watering, use lukewarm water, make sure there's no standing water in the pot for long periods of time, avoid getting water in the crown while watering.
POTS AND POTTING MEDIUM
The right kind of pots and potting medium (mix/media) are as crucial as the correct watering! Even if your watering was under control, it can be sabotaged by unsuitable pots and/or potting mix!
Let's start with pots. Phalaenopsis orchids are 'epiphytes' (air plants), growing higher up attached to trees etc, so they need air to breathe! This is why you need to use pots that allow enough air-flow and drainage. The pot needs to have good holes at least in the bottom, but sometimes also on the sides.
You want to allow enough air to access the roots, and to help dry out the potting mix fast enough. (Some pots are so 'claustrophobic' they trap all moisture and humidity inside) The holes also need to allow the water to exit the pot easily after watering. If the holes in the bottom are too small, the water can get trapped inside.
When I repot my Phalaenopsis orchids I always put some Leca pebbles in the bottom of the pot. This is purely to make sure there's some kind of aeration in the bottom, and easy access for the water to get out. (You can even use a few packing peanuts if you don't have Leca pebbles!)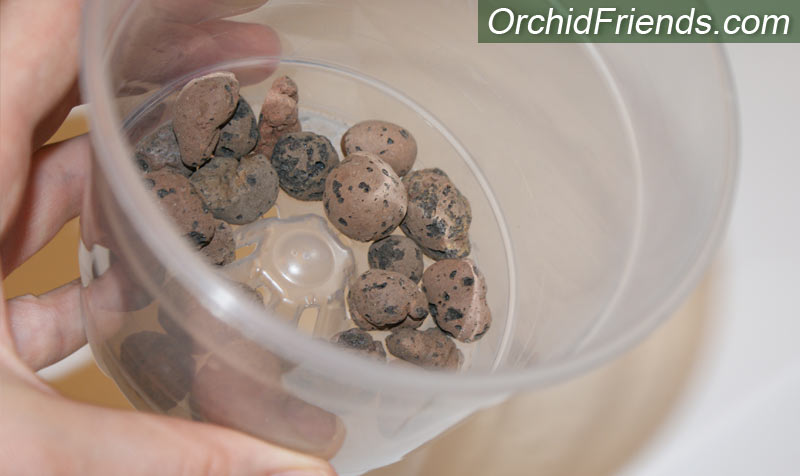 The clear plastic pots that orchids come in usually have enough holes in them. But you can always add more holes in them if needed.
The holes can be done with a drill, hot nail, or soldering iron. I use the latter, simply because it's the easiest and quickest option for me. Though keep in mind that melting plastic releases toxic fumes, so don't do this in the same room with pet birds or babies!
I always try to do it in the backyard or in the shed, and I even cover my face while doing it. Melting plastic is truly not something any living being should be inhaling. ☣️
If you don't like the look of clear plastic pots, then you can hide them in decorative pots. Just make sure there's enough space for airflow! I've seen decorative pots so small that the plastic pot just about fitted inside of it, which prevented any airflow to the roots and potting medium. (This leads to the potting medium being too wet for too long, which causes root rot)
Suitable pots and potting medium go hand-in-hand. You really need to get them both right, or you'll face problems before you realize it. As Phalaenopsis orchids are "air plants", you cannot use normal potting soil for them – it would suffocate the roots. So use potting mixes that are made specifically for orchids.
The orchid potting mixes can be made up of different things; bark pieces, coconut coir, coconut husk chips, moss, perlite, even charcoal.
If you're new to orchids, the safest bet is just to go for a ready orchid potting mix. But at some point in the future, you could also make your own mixes.
For more information about different types of orchid potting mediums; please see here.
So let's recap; Use pots that have enough holes in the bottom, add extra holes on the sides if needed, don't use too 'tight' decorative pots, use potting mixes that are made specifically for orchids.
HUMIDITY
Phalaenopsis orchids are tropical plants, so they need humidity. This can sometimes be a struggle in indoor environment, and also depending on where you live. They need a minimum of 40% humidity to thrive. If you don't know what your indoor humidity is, then I'd advise you to buy a device to measure it with (hygrometer). They can be inexpensive, I think I paid only $10 for mine, and they make life so much easier!
Just have it standing close to your orchids and keep an eye on the % levels. If your indoor air is too dry (below 40%), you can buy an air humidifier. Or put small bowls of water around your plants. Or even a "humidity tray" – a simple tray with rocks/sand/clay pebbles on it, and then pour water on it.
Put the orchid to stand on it in its pot. You only want the humidity to evaporate to your plant – not the bottom of the pot to soak in water.
REPOT
It's advisable to repot your orchids every 1-2 years (max 3). Potting mixes start to break down with time, some faster than others. This results in compressed potting medium, which prevents airflow and starts to suffocate the roots. Old potting medium can also turn acidic, which burns the roots.
In addition, repotting gives you a chance to make sure there are no pests lurking inside the pot. So keep your eyes open – there shouldn't be anything crawling around!
You also get to see how the roots are doing. If they have outgrown the old pot, then you can go one pot size bigger. But generally speaking Phalaenopsis roots don't need a lot of extra space. So if the roots still fit inside the old pot, you don't have to upsize.
Clean out all the bad (dry/soggy) roots once you've gotten to inspect them. Rinse them with lukewarm water. I also spray them with Hydrogen Peroxide 3%, but that's optional. (Not everyone likes harsh chemicals)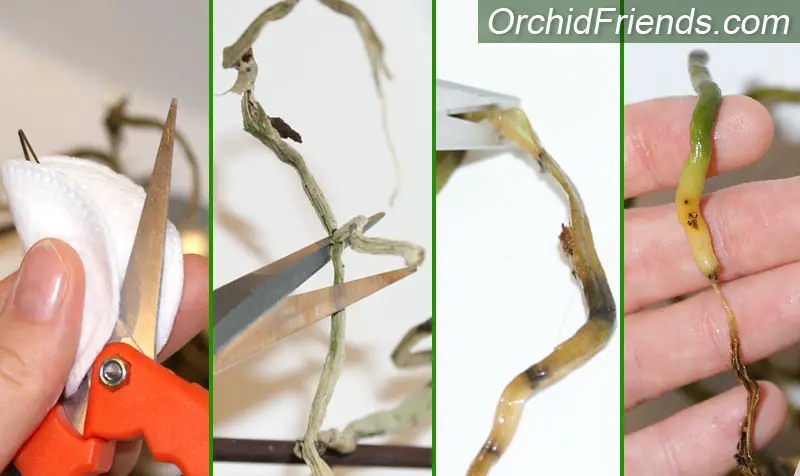 The best time to repot is when the orchid is done blooming. Preferably Spring, but you can do it any time of the year if needed. After the blooming stage starts the 'vegetative stage'. This is when the plant is growing new leaves and roots.
Even though repotting can take hours (depending on how many orchids you have!), I find it enjoyable. It's quite calming and gives that rare hands-on time with the orchids!
I've made a step-by-step guide to show how to repot your orchid – you can see it here.
Information about different types of orchid potting mediums can be seen here.
Information on WHEN to repot your orchid can be seen here.
So let's recap; Repot every 1-2 years. Check for pests. Check the roots; trim off all dry/soggy roots. You can reuse the old pot if the roots still fit inside it. If you need to upsize, then go only one size bigger. Repot preferably during Spring & after blooming.
FERTILIZING
To use fertilizer is helpful when growing orchids. It's not a must when using tap water, but it can still be beneficial. If you use distilled or rain water, then you have to add fertilizer to the water.
There are many ready orchid fertilizers in the market. Just pick one and read the dosing instructions carefully. I'd even cut down the advised amount to half – too little can't do any harm. But too strong can burn the roots! So please always underdose rather than overdose!
If you have options to choose from, see if you can find digits 20-20-20 on the bottle. I'd advise you to get one like that, because it's balanced, so fits the orchid's all needs. I'd also recommend you to avoid 'urea' in the fertilizer.
I have written a whole article about what to feed your orchid, which you can read here!
So let's recap; fertilizer is optional when using tap water, and a 'must' when using pure waters. Pick a ready orchid fertilizer, prefer 20-20-20, try to avoid urea. It's better to underdose than overdose!
FLOWER SPIKES
There are two main things to know about flower spikes when growing orchids. The first is to trim the flower spike once it starts to whither. Brown means it's dying, and it's totally natural – flower spikes aren't supposed to live forever! The orchid will grow a new one when it wants to bloom again.
So a brown flower spike can just be trimmed at the base of it, as close to the stem as possible.  If the spike is still green, however, you might be able to get more flowers from it. Sometimes more buds grow from the tip of the spike, but if it looks like it's 'dead', then trim the spike.
You need to find the closest unused 'node' to the first flower on the spike. Nodes are those little sections throughout the spike, there are several of them. Every node can yield a new flower or even a secondary branch.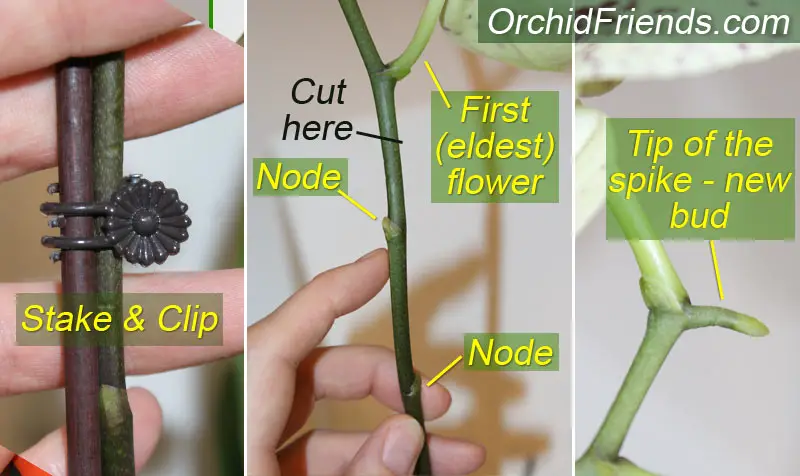 So find the closest node to where the oldest (first) flower grew from! Cut about an inch above it with sterilized scissors or pruners. Seal the cut mark with ground cinnamon. (This helps to close up the wound quicker, and it's also antibacterial – just don't get it on the leaves and roots, because it's dehydrating)
That's how you trim a flower spike. But how to make a Phalaenopsis orchid grow a brand new spike? The answer might surprise you; it has nothing to do with the amount of light or darkness. It's prompted by a fall in night temperature!
You need a 10-15°F (/5°C) temperature drop at nighttime, for about 2 weeks or so. (After that you can rise the temperature again) Example; if the room's night temperature has been 77°F then it should drop down to 62-67°F, etc. (/Or from 22°C down to 17°C, etc) When some people say their orchids haven't spiked in years, it can be due to too steady indoor temperatures!
Once the spike has appeared it takes 8-12 weeks for it to grow into the final blooming stage. So be patient! (Hard, I know) 😉
With new spikes you can either let them grow naturally or stake them upright. For staking, you need an orchid stake or any kind of stick (just make sure it's long enough). Place it right next to the spike and start to attach the spike to it with staking clips or twist ties as it grows.
Fresh growth is bendable, but always handle the spike gently – you don't want it to snap! As the spike grows it hardens up, so keep this in mind when trying to bend the spike.
To stake or not to stake ("that is the question!") is a personal preference. It's mainly an aesthetic matter, but if your orchids are close to the window, then you might have to do it for space reasons too! Remember, spikes can grow a few feet long, so they'll quickly hit the window if they're close to one!
If the orchid has large flowers, then the spike can become top-heavy. This can make your pot fall over! Stalking solves this problems, or just putting the orchid in a heavy enough decorative pot.
So let's recap; withering flower spikes can just be cut off at the base. By trimming the spike above a node can yield more flowers. Seal the cut wound with ground cinnamon. A 10-15°F (/5°C) drop in night temperature for 2 weeks prompts spiking. Staking is optional, but you might have to do it for space- or balance-reasons. Stake new spikes gently so they don't snap.
PRACTICE "SAFE HANDLING"
Phalaenopsis orchids can sometimes carry viruses – don't worry, nothing us humans can catch! But if one orchid has a virus it can spread to your other orchids by touch. So it's always important to wash your hands in-between handling orchids!
And not just that; it's also important to sterilize the scissors/knives/pruners when you use them on your orchids. Always sterilize before and after use. Same with pots if you reuse them; give them a good wash with hot water and soap before using them again.
On top of viruses, you also need to watch out for pests. If one orchid has microscopic pests, you might accidentally transfer them to your other orchids with your hands. (Remember, some pests are so small you really can't see them with bare eye!)
So please, always practice "safe handling"!
FINAL WORDS
I hope this article has enlightened you about how to grow orchids. I tried to keep it enough simple, so you won't get overwhelmed! Just all the most necessary things you need to know and master, so you can keep your orchids alive for many years to come!
As you become better and more knowledgeable with orchids, you can then go into more detail about different topics. But there's no reason to confuse and overwhelm you now! Just start with this information, and then take it to the next level.
I wish you all the best with growing orchids! If you need help this blog is here to help you! And if you can't find the information you're looking for, then please leave a comment in the comment section – I'll get back to you as soon as simply possible!
Thank you for reading! I wish you a beautiful day, and joy for growing orchids!