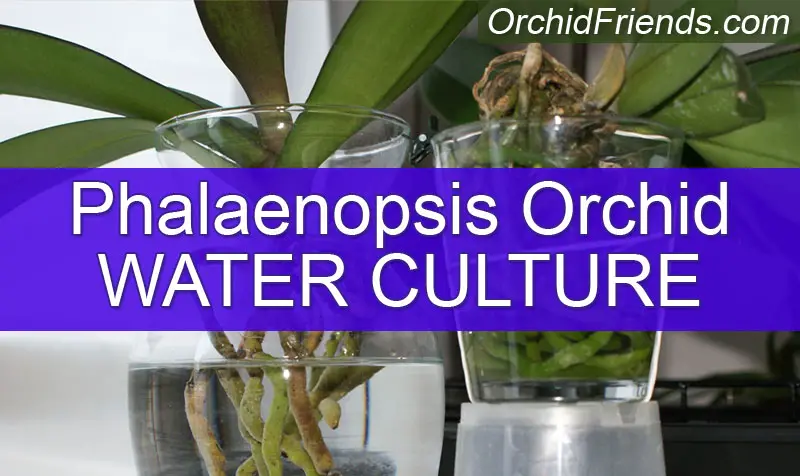 This might come as a surprise to some people, but Phalaenopsis orchids can also be kept in water-only. It goes against the rule-of-thumb to never leave orchids in standing water for long periods of time.
There's a specific science behind this method. Even though a controversial topic at times, dividing opinions for and against! But there are people who keep their orchids successfully in water culture.
So I gathered hopefully enough information for you to explain what Water Culture is. How it works and how to get started with it! Let's explore it below. 🙂
What is Water Culture for Phalaenopsis orchids? In water culture, you keep the orchid in water-only. No potting medium of any kind is used in this method, such as bark pieces. The only things required are a glass container, the orchid, and water.
Does water culture really work for orchids?
Yes, it can really work. When water is added in the container, it creates a humid environment for the orchid. As these orchids are tropical plants, they love humidity! The plant is placed to rest on a container with its roots touching the water. The opening of the container should be wide enough to allow easy airflow in-and-out of the container.
It can take some trial-and-error to make this method work, but if you succeed, it's a fascinating way to grow orchids. Every orchid is different though; some orchids might struggle to take on to it, while others thrive in it!
What is Water Culture for orchids?
There are three different ways to do Water Culture.
Full Water Culture (FWC)
Semi-Water Culture (SWC)
Semi-Hydroponic (SH)
In Full Water Culture (FWC) the orchid is kept in water all the time; 24/7. About 1/4th of the roots are emerged in water. As the water evaporates, more water is added to maintain the same water level in the container.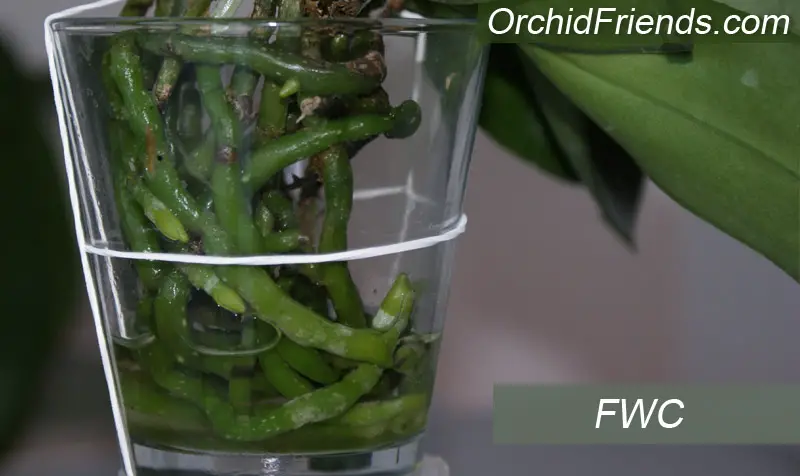 In FWC the roots seldom get a "dry out" (a dry period to allow the roots to dry). This might be once a month, a few times a year, or never. So the essence of FWC is truly to keep the roots in water at all times.
The pros of this method are; the convenience of it. Once you've set the plant in water, you can just let it be. It takes very little maintenance. As long as you add more water as needed, there's really not much else you need to do. With this method, you also have fewer pest problems than with normal potting mixes.
The cons of this method are; the risk of mold and rotting due to the constant high humidity. This has a lot to do with your environment too, which you'll quickly discover if you decide to try this method.
Semi-Water Culture (SWC) alternates between cycles of wet and dry days. The amount of days varies from environment to environment. But it can be e.g.;
3 wet days + 2 dry days (Repeat cycle)
Or:
2 wet days + 5 dry days (Repeat cycle)
Start with one schedule and see how your orchid behaves. You will quickly learn how many wet and dry days your orchid needs. Dry roots need water again, and wet roots need a breather. If mold appears you know there were too many wet days, so adjust accordingly.
During wet days about ¾ of the roots are emerged in water. During dry days there is zero water in the container.
The pros of this method are; less risk in molding and rotting issues, thanks to the drying periods. The alternation between wet and dry days mimics the orchid's natural environment; showers of rain and no rain in the rainforest. Also, you have fewer pest problems with this method than with normal potting mixes.
The cons of this method are; the upkeep of it. For some people, it's too much work to alternate between the dry and wet days every x days. And especially the more plants you have!
Semi-Hydroponics (SH) is the 3rd way to do Water Culture. This is slightly different than the two other methods mentioned above. In SH in addition to water, the container is filled with LECA clay pebbles. The stem and roots are supported by the clay pebbles.
You need to make air holes in the container above the water level. This is easy with a soldering iron if you're using a plastic container, but you need a special tool to drill through glass. These holes provide air circulation to the roots, which prevents rotting and molding issues.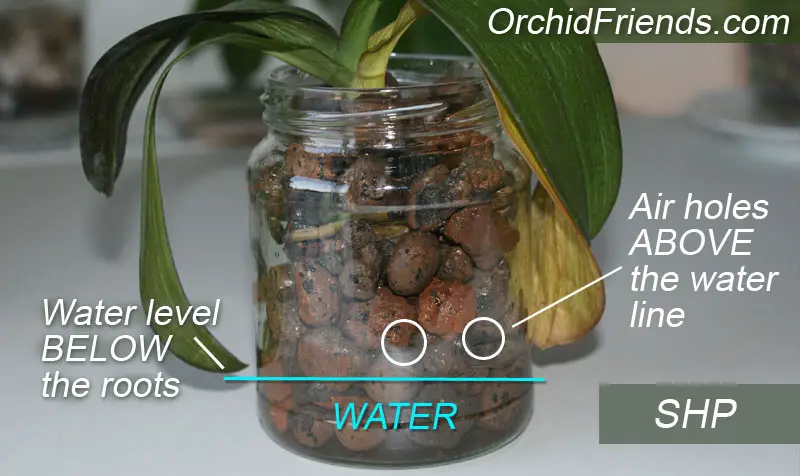 When you first transition your orchid to this method, all the old roots will most likely rot and die. The orchid will then grow brand new roots that adapt to the environment Semi-Hydroponics provides.
The pros of this method are; it's easy to upkeep. You only need to maintain the water level. This method also provides more oxygen to the root system. And there are fewer pest problems.
The cons of this method are; It can feel slightly confusing, in the beginning, to get started, because you should learn the science behind it. Also, it can be time-consuming if you have many plants to transfer to this method.
How to transfer your orchid to Water Culture
It's pretty simple to transfer your Phalaenopsis orchid from its normal potting soil to water. First, you need to find some glass containers. It can be a  vase or a jar, anything you can find. The opening of the container should be wide enough, for easy airflow and so the leaves can easily rest on the rim.
The container should provide enough space for the roots – and for new root growth! So avoid containers that are too small. With a container that's on the bigger side, you can always make it work by adding more water in it (to reach the roots). Once you have found the perfect container, wash it with hot water and dishwashing soap.
Next, you need to unpot the orchid. Remove all old potting medium. Rinse the roots with lukewarm water, and with sterilized scissors trim off any bad (dry/mushy) roots. Also, if there are any old leaf bits in the stem, remove them with tweezers. Just clean up the orchid nicely.
Once the orchid is cleaned up, spray the roots and stem with Hydrogen Peroxide 3%. This will kill any mold or bacteria that might be there.
The next step to do is to simply place the orchid in the glass container. Depending on the method you picked (Full Water Culture, Semi-Water Culture, Semi-Hydroponics); add the water level as required. (For SH also the Leca pebbles!)
With FWC emerge 1/4 of the roots in water;
With SWC emerge ¾ of the roots in water;
With SH the water level goes just below the longest roots.
That's all you need to do to get started. Your orchid will now start to adapt to its new growing environment. Sometimes all the old roots will die, so if this happens don't freak out! The orchid will grow new roots that acclimate to water culture. As long as the rest of the plant looks fine (the leaves are nice and sturdy), then just let the orchid be and be patient.
After this there are a few other things to remember;
With Full-Water Culture, as I mentioned earlier, it has a higher risk of developing mold and rotting issues. So keep an eye on any changes. If white mold appears on the orchid, rinse it off with lukewarm water, and spray the affected area with Hydrogen Peroxide 3%.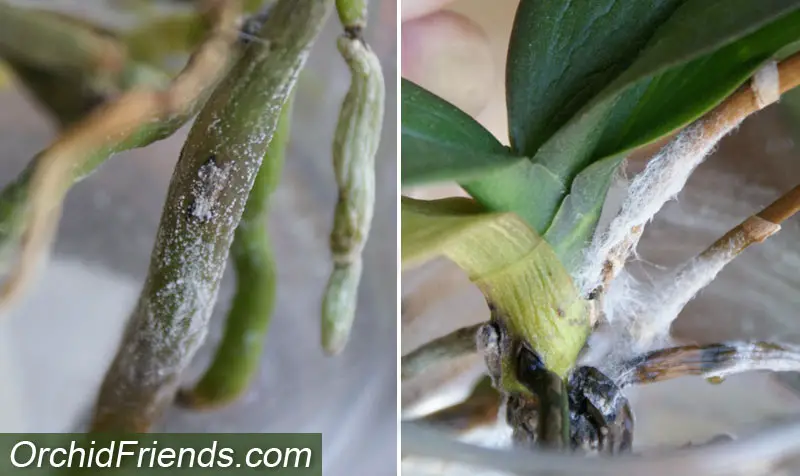 Mold and rotting are caused either by too many wet days or by lack of airflow in the container if the opening isn't big enough!
If the water in the container starts to smell or look very dirty, you can change it to clean water. Preferably wash the container with hot water and dishwashing soap before you fill it up again.
Always make sure you're using softer water for Phalaenopsis orchids! Never hard water. Aim for PH levels of 5.5 – 6.5. You can measure the PH level with PH test kits or an electronic measuring device.
How to Fertilize Orchids in Water Culture?
This gets asked a lot, so let's try to make it simple.
With FWC prepare a fertilizing mix for your orchid in a separate container. I normally mix half of the recommended amount of fertilizer in the required amount of water. (You can also do only 1/4th! Less is more!)
Once I have prepared the mix and stirred it with a stick, I take out the orchid from its container and put its roots to soak in the fertilizer mix. (Remember never to put the whole orchid in water – only the roots!)
Let the roots soak up there for 15 minutes or so. Then take out the orchid and put it back in its original container. How often to do this depends on the type of water you use – some people don't fertilize at all. But with water culture, as there is no potting medium to provide any additional nutrition to the plant, I would recommend fertilizing.
You can fertilize once a month or every other week. Or even a few times a year – find a schedule that works for you and your orchids! If the water you use for the water culture is 'rich' as it is, then added fertilizer is not needed frequently – and vice versa!
With Semi-Water Culture I add mild(!) fertilizer on some of the wet days. I don't have a steady fertilizing schedule, but I tend to do it more often when the plant is in its vegetative stage (growing new leaves and roots, not in bloom).
Water Culture for struggling orchids
I have used water culture (SWC and FWC) many times for struggling orchids. For instance, if an orchid is struggling with dehydration or lack or roots, then I usually switch to water culture as the first remedy.
I also transfer orchids with pest problems to water culture. This is because pests can hide in the potting medium, so I want to remove all possible hiding places from the pests. And I also want to treat the roots when an orchid is under attack, so I remove the affected orchids' potting medium anyway.
Whether to do FWC or SWC with struggling orchids is up to you. You can start with either one and keep an eye on the roots and possible mold. If white mold appears quickly, then adjust enough dry days into the schedule. Some of my orchids have taken on to Full Water Culture immediately, while for others it was too much. Every orchid is different, and also every climate/environment is different.
Can you transfer an orchid in bloom to water culture?
Generally speaking, any environmental change for an orchid is stressful. And when an orchid gets stressed it can drop its bloom! But it doesn't always happen. I know many people who bring home a brand new orchid (in bloom!), and they switch it to water culture immediately without losing any flowers.
So ultimately, it's up to you. But yes, you CAN do it. There's always a risk of losing the bloom, but it's a risk some people don't mind taking.
Final words
I hope this article has answered some of your questions about water culture for Phalaenopsis orchids! It's a fascinating form of keeping orchids.
Repetition is the mother of all learning, so let's recap what we discussed above;
Full Water Culture means water always (1/4 roots emerged in water)
Semi-Water Culture alternates between wet & dry days (3/4 roots emerged in water)
Never put the crown in the water – only the roots
The old roots can rot and drop when first transferred to WC – do not panic!
Watch out for white mold
Change dirty water in FWC
Fertilize mildly as needed
Find your own wet/dry schedule in SWC – there's no fit-for-all!
Use glass containers, with wide enough opening
WC is a great aid for struggling orchids
If you have any questions that didn't get answered in this article, please ask away down below in the comment section!
I'd also like to hear about your experiences with water culture – did it work for you? Are you a fan of Full Water Culture or Semi-Water Culture? Or perhaps Semi-Hydroponics? Would love to hear from you!
Thank You so much for reading. Until next time, take good care! ❁