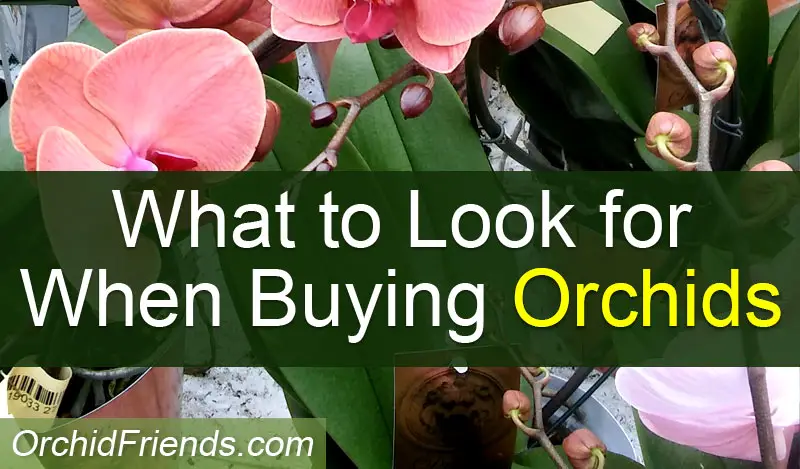 The passion for growing orchids started for all of us somewhere and somehow. We all have that story how we got into orchids in the first place!
A few years ago I went over to a friend's house for Thanksgiving. I gave her a colorful Phalaenopsis orchid in a clear plastic pot, which she placed on the kitchen windowsill.
While washing the dishes after the nice dinner with my friend, I noticed she couldn't help but admire the new addition in her kitchen. Sadly, the orchid died some months later, primarily due to a lack of a green thumb on her part. But she told me she had never realized the beauty of these plants before that day.
Since she had fallen in love with the moth orchid on that Thanksgiving, she asked me to go to a local orchid nursery with her. She wanted me to show her what to look for when buying new orchids. Today, my friend has ornamental orchid plants in and around her home, and she has learned how to care for them properly. (Phew!) 😉
But it's not always clear what to look for when buying new orchids – this is something that I learned with my friend, and what made me want to write this blog post today.
So what to look for when buying orchids? First, you need to look at the health of the plant by checking the leaves, roots, and flowers. Make sure there are no unusual coloring or markings on the leaves. Check for any webbing or live bugs moving around.  
In today's post, we discuss in-depth the things to look for when buying orchids, where to buy moth orchids, what you need to grow orchids, and more.
What Should I Look for When Buying Phalaenopsis Orchids?
There is something magical about phalaenopsis orchids. They have broad flat petals which look like little moths, especially the white ones. A symbol of natural beauty and elegance, orchids may look fragile and delicate, but these flowers are tougher than you think. If you are planning on buying orchids, I always recommend the phalaenopsis species – and especially as the perfect beginner orchid.
These are the most common orchids found in grocery stores and orchid nurseries. They are available in a variety of colors and patterns. The flowers can last for months and the plant can live for many years with proper care.
Here are things to consider when buying phalaenopsis orchids.
Judge Your Orchid Vendor
Before inspecting the plant, it's wise to give a quick inspection of the garden center. Is it clean? Are the potted plants in order? What is the general cleanliness of the store? What is the health of plants in the store? Do you see any live bugs on any of the plants? (Spiders are okay)
If the orchids are priced higher in the shop you're in, I'd also like to pay attention on; Are the staff attentive? Are they interested in your welfare and that of the plants? When it comes to questions about moth orchids, how are they responding?
Buying an orchid plant from a vendor who has a clean shop and the plants are healthy ensures value for your money. In such a greenhouse, inspecting the plants is easy.
When you buy cheaper orchids from grocery stores, then, of course, you can't demand more service for your money – but if you pay a higher price for the orchids, then demand good service along with it.
Also, having your questions answered to your satisfaction makes decision making on your part, easy.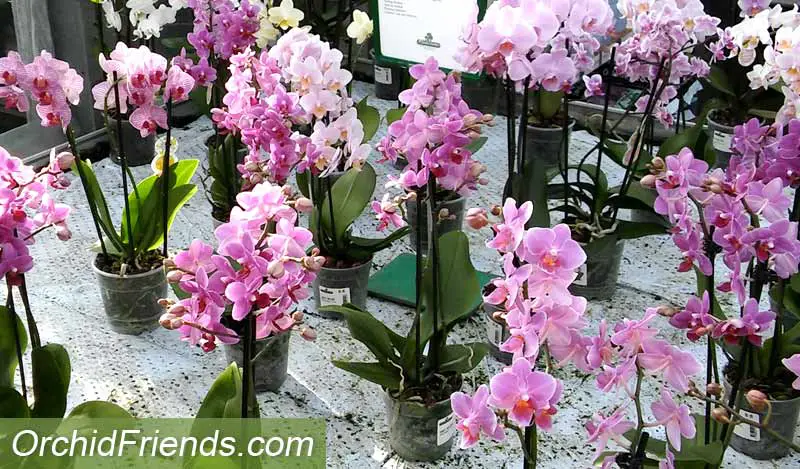 Determine its Purpose
What are your intentions with the orchid plant? Would you like to gift it to a family member or friend? Or use the orchid as a centerpiece? Or, would you like to make the orchid part of your ornamental plants? A majority of people buy orchid plants either as gifts for family and friends or as centerpieces.
If you want to buy Phalaenopsis orchids as a gift or centerpiece, I recommend that you buy plants with large, open flower sprays. This has an immediate dramatic impact. Also, buy orchids with several buds as this will ensure that the plants can be enjoyed for months.
If you're looking out to buy a new orchid to your collection, then pay extra attention on the condition of it – make sure the leaves and roots look strong and healthy. (More about that below) And that there are no signs of pests – you don't want to bring them home to your other orchids! And, go for the flowers you love the most – there are so many to choose from!
Some people want their orchid collection to include flowers of all different colors and patterns – no two of the same. And others collect specific colors. It can look impressive to have only different types of yellow moth orchids together, for example. Or only white flowers. "Wild" patterned petals can make striking collection too. Or simply to have a collection that includes a bit of everything!
Ultimately, what you want to collect it's up to you. But it's always good to think about the end-result – what is it you want to collect. Otherwise you can quickly run out of space! 😉
Inspect the Roots of the Orchid
The roots of an orchid are a clear indicator of a healthy plant. At the grocery store or orchid nursery, this should be the first thing to check. If the roots are healthy, they will be white/silvery or green, and plump. If the roots are dry or mushy, then that's an indication of insufficient watering. (Dry = Too little, Mushy = Too much)
Most, if not all, Phalaenopsis orchids come in clear plastic pots. This makes inspecting the roots quick and easy – just pick up the pot and look at the roots through the plastic, you'll see enough of them to determine the root systems' condition!
Remember, healthy orchid roots should be firm to the touch. They should be white/silvery to green in color.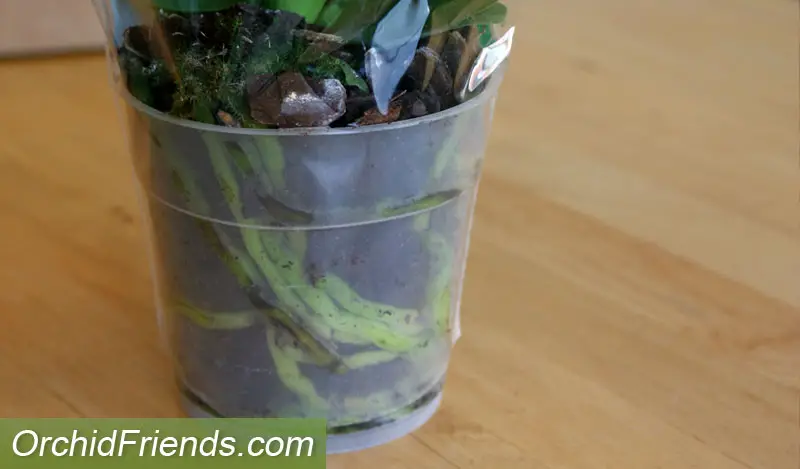 Orchid roots that stick out of the pot are referred to as aerial roots. This is because unlike with other plants, not all orchid roots are looking to burrow in the medium. Instead, they live in the air.
It is common to find most orchids with some of their roots reaching out into the air. These roots in nature would be in search of a tree branch to attach to. They also absorb moisture from the air. What makes orchid roots unique is velamen. This is a covering that acts like a sponge helping the roots to soak up water and protect the roots.
Velamen has special cells that transport water and deliver nutrients to the leaves and other parts of the plant.
Check the Leaves and Crown
If the orchid has bright or dark green leaves, then it's a healthy plant. But if the leaves are yellowing with spots or discoloration, it means the plant is in distress. One reason that may contribute to this is pests. Other reasons include overwatering, disease, and lack of nutrients. Black would indicate rotting.
Yellow leaves are not always an indicator of trouble, though. If only one or two of the bottom leaves are yellowing, then it's normal. Mature leaves (remember, the eldest leaves are in the bottom, the youngest on the top) die off, sometimes for the plant to reserve energy, sometimes for light/space issues. But, if all the leaves are yellowing, this indicates a serious problem – in other words, avoid buying an orchid like this! (Unless you're up for a challenge – some people, including myself, like the thought of 'rescuing' suffering/dying orchids)
If the leaves have yellow spots, it can be an indicator of insect infestation; if the spots are dark, that's a sign of bacterial infection. Check the top and underside of the leaves for white bumps or webs. This indicates the presence of spider mites and mealybugs. Also, if the leaves have holes or are floppy, it's another indicator of problem.
You want the leaves to be nice and firm to touch, in addition to solid green color with no unusual signs.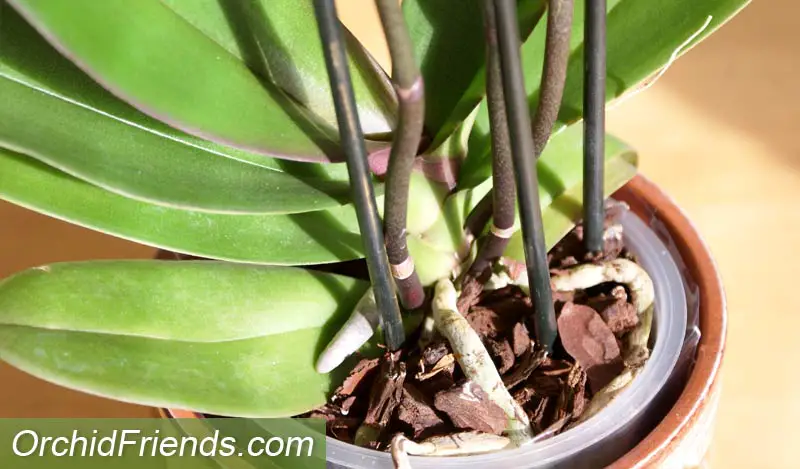 Look at the Blooms
When I am shopping for moth orchids, I'm quite selective about the type of flowers the plant has. I tend to go for something a little different, whether it's the patterns, color, or the shape of petals. Oh, and for some reason, I have a soft spot for yellow phalaenopsis flowers!
While I want a plant with lots of flowers, I also know this is something that can be "worked on" in home conditions. So even if the orchid has already dropped some of its flowers, that's okay with me. There'll be new ones. So first and foremost I look at the type (color, shape, patterns) of flowers the plant has.
If there is a lot to choose from with the type of flower I prefer, and all the plants (leaves and roots) look equally healthy, then I prefer to pick a plant that hasn't opened all its flowers yet. Maybe even most of them are still in bud! This way, I can enjoy the bloom for a longer time.
The traditional moth orchid has white flowers, which of course is a classic! I'm guessing everyone has at least one white phalaenopsis orchid in their collection? (If not more!) They can look impressive alone, or together. There's something so elegant and 'zen' about those big white flowers.
But there's so much to choose from – flowers with yellow, purple or pale pink colors. Even really dark ones! So there's definitely something for everyone.
I check to see if the flowers are lustrous and held above the foliage. I look for any unusual signs – keep in mind, some pests, like mealy bugs, love to hide in the flowers! So inspect the flowers carefully before purchasing it. They must be free of fungal spotting and unblemished.
The flowers should have a few buds yet to open if you want the blooms to last a longer time. So if that's the case, do not buy orchids where the flowers are open to the tip of the spike.
Another thing to check is the health of the spikes. Spikes can be different length and thickness, depending on the plant. But just make sure there's nothing unusual – once again, mealybugs like to walk and hide on the spikes too.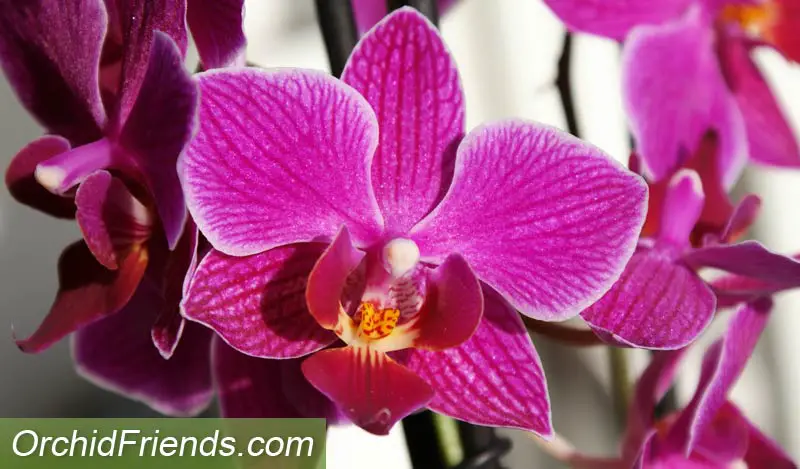 Where Can I Buy Orchids?
The orchid family has more than 20,000 species making it one of the largest plant families in the world. As a smart and educated shopper, you want to buy the healthiest orchid that will lift your spirit and transform the look of your home.
There are several locations where you can buy healthy orchids. They include:
Local orchid nursery
Big box retailers such as Walmart and Home Depot
Local grocery store
Online store
To find a local orchid nursery near you, Google the business. Thanks to Google Local Business listings, you can find local shops quickly. Use keywords such as "orchid nursery near me" or "greenhouse near me".
Apart from using the keywords above, you can use simple statements like "where can I buy orchids in New York or Florida." From the results, write down the contact information of the business. You can also use Google Maps to find the physical location of the company.
While using the internet, I recommend reading the reviews. Reviews improve comparison shopping rankings, raise conversion rates, and increase customer engagement.
Shopping online is very easy. With a few clicks, you can select your products and have them shipped to your doorstep. If you plan on buying orchids online, make sure the provider is transparent.
You may wonder how? By having a clear way to contact their customer support in case there are errors during shipping. This ensures that damaged plants get replaced fast and at minimal costs.
How Much Do Orchids Cost?
As having grown in popularity, phalaenopsis orchids are readily available in most areas. (Rural areas being an exception) As such, you can find the perfect orchid that fits your needs and style. Orchids make great gifts too. You can gift one to a loved one on Valentine's Day and make their day.
Today, the price of orchids is favorable. You can buy a phalaenopsis orchid at a local grocery store for as low as $10. If you buy the same from a specialty website, it will cost you $40 to $50. As said earlier, you can find orchids at big-box retailers such as Walmart and Home Depot. Such stores will sell the moth orchid as low as $15 – $20, and you can even find them on clearance.
From my experience, I recommend buying from a local orchid nursery or grocery store. When you buy from a local orchid nursery, experienced staff will serve you. As such, you will get an expert opinion on all your questions and help you select healthy orchid plants for your home.
When buying from a grocery store you don't get the same kind of service, but you can find more affordable prices and plants just as beautiful. I tend to check the orchid selection in my local grocery store every single time I go there to buy food – you never know what's in the selection!
If your city hosts an orchid show, I recommend that you attend it. You will get to meet and talk with orchid experts who will share their experience and help you become an experienced orchid grower.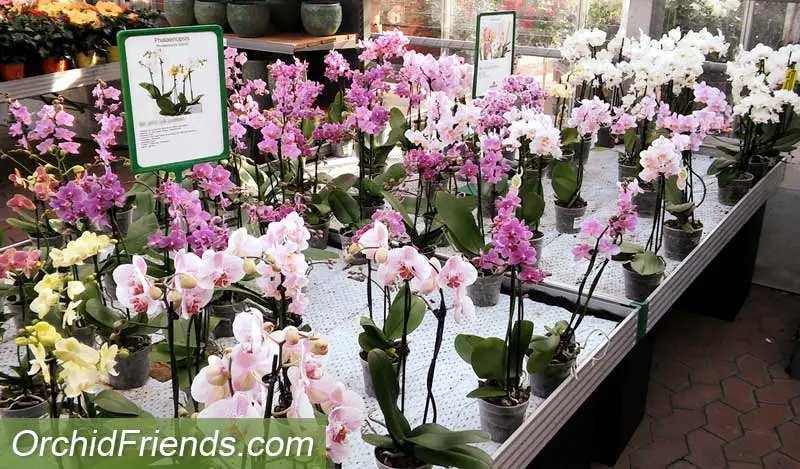 What Do I Need to Grow Orchids?
Many people believe that orchids are difficult to grow. Well, this is far from the truth. As the most commonly grown house plants, all they need is for you to have the proper growing conditions. So, what do you need to grow orchids?
Right Kind of Soil
One mistake many first-time orchid growers make is choosing the wrong potting soil. Orchids are not similar to other plants. If you choose the wrong potting soil, you will likely kill your orchids.
I recommend starting with medium-sized bark chips as your potting medium. But if you want something more 'complex' then try bark chips, coconut husks, perlite, charcoal, and clay pebbles as your potting mix. You can also experiment with porous and breathable mixes. Most Phalaenopsis orchids thrive well in medium-sized potting mix.
To make the medium-sized potting mix, use the following:
Medium-sized fir bark or medium-sized coco husk chips (4 parts)
Medium-sized grain charcoal (1 part)
Perlite (1 part)
A Pot
To make your orchids comfortable, choose a snug pot – one that the orchid just fits in. The roots don't need a lot of extra space, just enough to fit in the pot + a little extra for new root growth. Make sure the pot has plenty of holes for drainage. I advise against pots that have few small holes in the bottom – they prevent proper drainage and airflow, which is harmful to the orchids. When buying containers for your orchids, I recommend:
Clear plastic pots
Net pots
Wooden pots
Once you have the requirements above, you can pot your orchid plants. To do so, remove the orchids from the original pot, rinse the roots with lukewarm water and cut off any dead or rotting roots with sterilized scissors or pruners. Handle the roots gently to avoid any breakage. Spray with Hydrogen Peroxide 3% before placing the orchid plant in the pot.
Make sure the stem of the plant is in the middle of the pot. Add the potting mix – use your fingers or a stick to fill up empty spaces in the pot. Remember not to cover the mid-section of the plant entirely, to avoid rotting issue in the future.
Read more about how to repot your orchid here
Read more about when to repot your orchid here
Read more about different orchid potting mediums here
Orchids originate from a tropical climate. As such, ensure they have plenty of light (indirect sunlight) and good air. Direct sunlight can cause sunburns. Ensure the indoor temperature is in the range of 65 to 75 degrees F. At night, maintain cool temperatures of 52 to 58 F. This helps to trigger the formation of flower spikes.
Don't forget to water them when the potting medium becomes dry – the timing varies depending on the season and the type of potting soil you're using. Also, use an orchid specific fertilizer once a while, or "weekly weakly".
Please read more about orchid fertilizing here
Please read more about how to water your orchid here
Best Place for Orchids Indoors
The best place for orchids indoors is away from direct sunlight. I recommend placing your orchid near an east or south-facing window. If you live on a hot climate and put the orchid near a west-facing window, too much sunlight will cause them to burn. A north window is also not a good position as it does not provide enough light for proper growth.
Phalaenopsis thrive well if they get southerly or easterly light. Place them behind window blinds or curtains if the sun gets too strong. Otherwise they can be uncovered on the windowsills without a problem.
To diagnose your orchid plants, check their leaves. If they are extra dark, they might not be receiving enough light. If the leaves are brown, yellow, or reddish, they are receiving too much light. Healthy orchids receiving the right amount of light have dark green to light green leaves with yellowish tones.
Final Thoughts
There you have it. The complete guide on what to look for when buying orchids. Now, you are on your way to becoming an experienced orchid grower. There are a couple of things to keep in mind when buying orchid plants.
At the grocery store or orchid nursery, do not pull on the plant. Instead, lift the plant up to look at the roots through the clear plastic pot. By doing so, you will not uproot the plant. Make sure the leaves look strong and healthy and check for any signs of pest infestation. Maybe even bring your magnifying glass, if you want to be sure!
By following these tips, you will surely select the best orchid for your home.
Thank you for reading. Happy orchid shopping, dear orchid friends! 😊