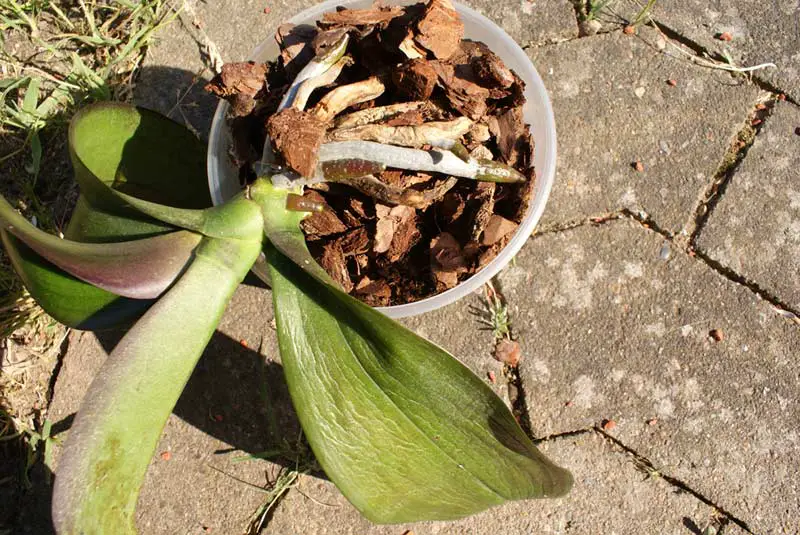 Drooping orchid leaves is an issue every orchid enthusiast has encountered at some point in time.
Maybe it's your very first orchid that is now showing these signs after a few months of purchase. Or perhaps you couldn't resist that sad looking orchid on the clearance table, calling your name to be rescued?
Or maybe you're coming back home from a vacation to find your orchid's leaves drooping. Either way, there's no reason to panic – you're in the right place! I am here to help you tackle this issue.
So why are your orchid's leaves drooping? There are three possible causes; either your orchid has been under-watered, over-watered, or it has experienced root loss. Below, I will tell you how to detect which case it is, and how you can fix it.
The answer is in the pot
The very first thing you need do is to look into the pot; how does the media (bark/moss) look like? Does it seem very dry? Or is it soaking wet?
How do the roots look like? If the orchid is in a see-through plastic pot, you can see the condition of the potting media without having to pull anything out. Even though, repotting your orchid is still advised.
Dehydration
Dry media is the sign your orchid is dehydrated – which has caused the leaves to droop. This can be fixed by watering your orchid.
You can read my other article about watering your orchids HERE, but the rule of thumb is your orchid should be watered again as soon as the potting media has dried out.
This is necessary, to let it dry out in-between waterings. But as the plant doesn't like to stay dry for long, it's time to water again as soon as you see the potting media has dried out.
With severe cases of dehydration, I have placed the dehydrated orchids inside a big see-through box. It creates a humid environment which helps the most severe cases to recover, by absorbing humidity from the air.
You can also use a plastic bag if you don't have a suitable box on hand – just place the plant inside of it and close the bag well.
Open every few days to let some fresh air in. This method should be used only as a temporary aid, for extreme cases.
You can also gently mist your dehydrated orchid. I prefer spray bottles that have a very fine mist, but of course 'normal' ones work fine too.
Additionally, you can place a humidifier by your dehydrated orchids, or make a humidity tray to raise the humidity around the struggling plants. You can read more about Humidity Trays HERE.
Humidity levels can be measured with a hygrometer. The air humidity should always remain above 40% – anything less than that is too low for Phalaenopsis orchids.
Overwatering
If the potting media looks soaking wet, however, then the cause for the droopy leaves is overwatering. This is very common among new orchid growers, so don't worry – you're not the only one guilty of this!
To fix this issue, the media must be left to dry out. This will take from a week up to 3-4 weeks, depending on several different factors.
Make sure your orchid's pot has good drainage holes in the bottom so that the excess water can come out. And never leave your plant standing in water for long periods of time – this is a sure way to cause overwatering, which will ultimately kill your orchid.
Loss of roots
Orchids have two different types of roots; aerial roots (the ones that grow outside the pot) and terrestrial roots (the ones inside the pot).
The health of your orchid is in the roots, because the root system provides energy for the leaves and flower spikes, by absorbing water and nutrients.
There are many reasons why the roots can start to suffer, from lack of proper air-flow in the pot to insufficient watering and pest problems. It can be hard to see how the roots are doing because most of the roots hide inside the media.
And when buying a new orchid, you don't always know what you're bringing home. But droopy leaves can be caused by root loss too, even if your watering regimen was fine.
Get to the root of it – Repotting
Whether you're dealing with underwatering or overwatering, it might be the perfect time to re-pot your orchid.
This way you can inspect the health of your orchid's roots, eliminate any possible pests hiding inside the pot, and simply replace the old potting media with fresh potting media.
Especially in case of overwatering, there's a good chance the old media has started to compost, which suffocates the roots. And good root health is vital for your orchid's well-being.
You can see my in-depth article about how to repot your orchid HERE, but in a nutshell; you need some fresh potting media of your choice (ready orchid potting mixes are excellent), scissors or pruners, Hydrogen peroxide 3%, some old newspapers – and plastic gloves if you don't like your hands dirty. 😉
Sterilize your scissors/pruners with Hydrogen peroxide 3%
Cover the workplace with old newspapers (it can get messy!)
Pull out your orchid from the pot
Remove the old media (bark/moss)
Rinse the roots with lukewarm water
Cut out all the dead roots
Spray the remaining roots with Hydrogen peroxide 3%
Wash the pot (if reusing the old one)
Place the orchid in the pot* and fill with fresh potting media around the roots – it should stand firm when touched
Let the orchid be for a few days before watering*
You can drop a few Leca pebbles in the bottom of the pot, under the fresh media for extra air-flow and drainage (Optional)
Some people water the orchid immediately after repotting, but it's up to you (in case of overwatering, it might be a good idea to let it stand for a few days before watering again, but if your orchid suffered from dehydration, then you can go ahead and water immediately)
You can read more about what type of potting medium to choose for your orchids HERE
To read more about when to repot, please see HERE
And a step-by-step guide to how to repot, please see HERE
Hydrogen peroxide 3%
Hydrogen peroxide is an inexpensive antiseptic that comes in handy when dealing with orchids.
It has many uses in the orchid world; for disinfecting roots when re-potting; for sterilizing scissors before use; for treating crown rot; for treating fungus and bacterial infections; for killing pests.
Once sprayed on the plant, it quickly transforms into water, so it's not harmful.
The 3% strength is safe to use, which you can buy ready from the drugstore. If you have a bottle with higher strength at home, you can, of course, mix it yourself too. Just make sure not to exceed the 3% strength.
Conclusion
We have now gone through the different causes for droopy orchid leaves, how to tackle the issue and revitalize your orchid.
Luckily, it's not a death sentence for your plant – the sooner you address the issue, the sooner your orchid can start to recover!
Of course, drooping leaves sets alarm bells, that's natural, but in my experience with orchids there hasn't been one I haven't been able to salvage from this yet.
Just take action, and use it as a learning experience; you want to avoid this from happening again.
Whether you've been watering too much or too little, please read my tips for watering orchids correctly.
It can be a bit of an art form for someone new to orchids, but once you get the hang of it, you won't encounter any more droopy leaves!
And as mentioned before, please also read my in-depth instructions for how to repot your orchid – there is plenty of information about different types of pots and media to use.
Thanks for reading, orchid friends!