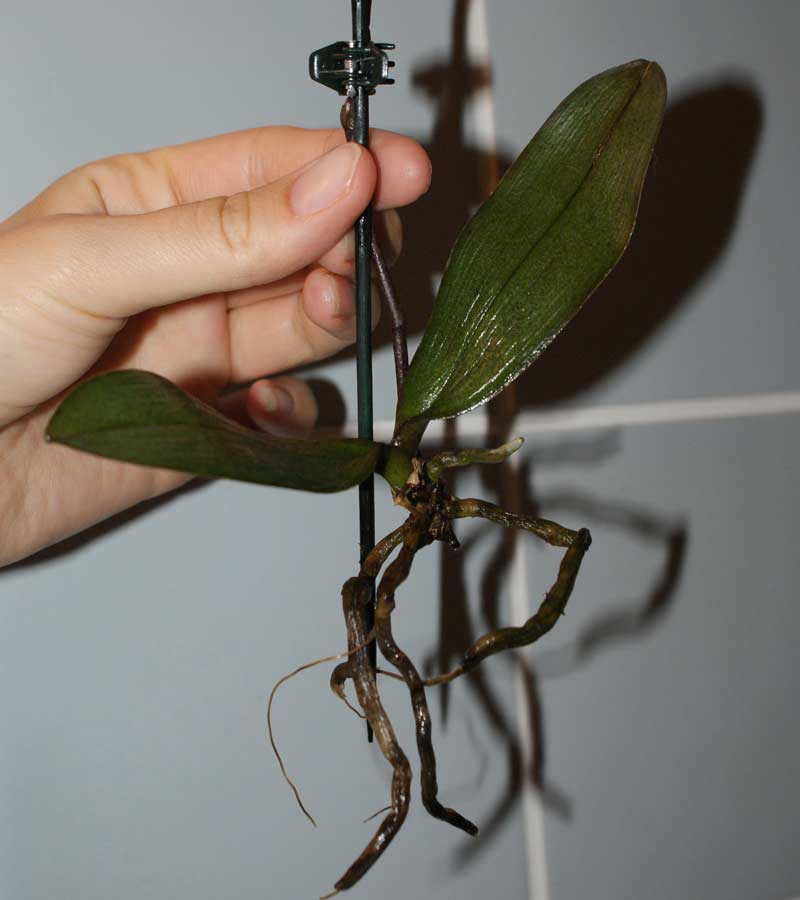 I can't even count how many times I've come across with people panicking about their dying orchid, asking what they can do to save it.
And of course, I've had orchids too, that have shown signs of distress and approaching death. I've brought home several dying orchids from the clearance table, wanting to nurture them back to life.
So if you have a dying orchid in your hands, and you have come here for help, you're in the right place. In most cases, with the proper care and immediate action, the orchid can be saved.
Depending on the issue, the orchid can be saved by re-potting, trimming off all the dead roots, cutting out leaves with spreading bacterial infection, relocating the plant, or by stimulating root growth.
Below, we'll go through different common scenarios in more detail. To save your orchid, the first step is to diagnose what's killing it.
Orchid with Root rot
One of the most common problems with orchids is root rot. This is mainly caused by overwatering the plant. Maybe it was left standing in water for long periods of time, which is a sure way to kill an orchid.
Root rot can also be caused by decomposing media because it turns acidic and therefore starts to damage the roots. Also, potting media that is too compact will suffocate the roots.
The way to diagnose root rot is by merely pulling out the plant from its pot. Remove all the media and inspect the roots; if they look mushy and dark in color, the diagnoses is indeed root rot.
All the bad roots need removing – you want to get rid of the dead weight! Cut with sterilized scissors or pruners, and spray with Hydrogen peroxide 3%. Repot in fresh orchid media.
From here on, make sure not to over-water your orchid. It must dry in-between waterings to avoid root rot from happening again.
You can read my article "How to water your orchid" for more instructions.
Dehydration
Another common problem with orchids is underwatering. Even though the orchid media needs to dry out in-between waterings, the plant doesn't like to be dry for many days on a row. It will start to suffer quickly.
Therefore, you should never neglect your orchid for long periods of time.
During summer the media will dry out faster. Depending on your climate, the type of potting media you use, and even on the orchid itself, the watering needs can vary drastically.
Just because it was enough to water the orchid every three weeks during winter time, doesn't mean that's enough during spring and summer.
Alternatively, perhaps you did water often enough, but the method of watering wasn't sufficient, causing the roots to dry out slowly.
Sometimes you can even bring home a brand new orchid that is already showing signs of dehydration.
Immediate visible signs of dehydration are wrinkly floppy leaves and very dry media (bark/moss). If the pot is clear plastic, you can detect dry roots even before taking the plant out of its pot.
Here's how to deal with dehydrated orchids; After removing the old media, soak the roots in water or rinse under a running tap – always use lukewarm water, and don't get the plant itself wet. Moistening the roots will help you see which roots are still alive and salvageable, and which to cut off.
With sterilized scissors or pruners, cut off all the dead-looking roots.
Spray with Hydrogen peroxide 3%.
Let air-dry for a moment and repot in fresh media.
Water the orchid and put aside.
In an extreme case of dehydration, until the orchid starts to show signs of rehydration, you can use the container/plastic bag trick explained below under the section "How to save an orchid without roots?".
From here on, make sure your orchid is watered as needed, to avoid dehydration from happening again in the future. See my article How to water your orchid for more information.
Crown Rot
Crown rot is one of the more severe problems affecting orchids. It occurs when water has gone inside the crown, which leads to rotting over time.
In nature, as orchids grow in the air, they grow sideways or 'upside-down' – this way, the crown can't collect water, and therefore crown rot can't occur.
As houseplants, we grow orchids upright, exposing the crown – if any water goes inside of it, which can quickly happen if not careful with watering, this can soon lead to crown rot.
If you ever get water in the crown, take some paper towel and put the corner of it inside the crown; keep it there until as much water as possible has been absorbed.
How to know your orchid is suffering from crown rot?
The crown has turned black, and some of the leaves might be falling off. Remaining leaves can be yellow by the crown.
The chances to save an orchid from crown rot aren't the best, but you can still go ahead and try.
Unpot the orchid and remove the old media; remove all the mushy or dead roots, and spray the whole plant with Hydrogen peroxide 3%.
Let air-dry for a moment, and then wipe off any excess water left behind. Repot the orchid in a clean pot using fresh potting media. Make sure not to pot the orchid too deep in the media, as we want the crown to stay dry.
Next, apply ground cinnamon in the crown – this limits the fungal infection and prevents it from spreading.
Now all you can do is wait and hope for the best. Water your orchid as required.
How to save an orchid without roots?
It's not unheard of to have an orchid without roots – maybe it lost them due to dehydration or root rot. Either way, there's still a chance you can save your orchid.
Start by cutting off all the 'dead weight' with sterilized scissors or pruners. Spray with Hydrogen peroxide 3% to eliminate any fungus or rot. Repot using fresh potting media.
Next, place the plant inside a see-through plastic container with a lid on. This creates a humid environment for your orchid. Due to being left with very few to none roots, it needs additional humidity to survive.
This can be absorbed from the humid air through the leaves. So as a temporary aid, you can place your orchid inside a plastic container – even a plastic bag will do. Give it fresh air daily, or every few days.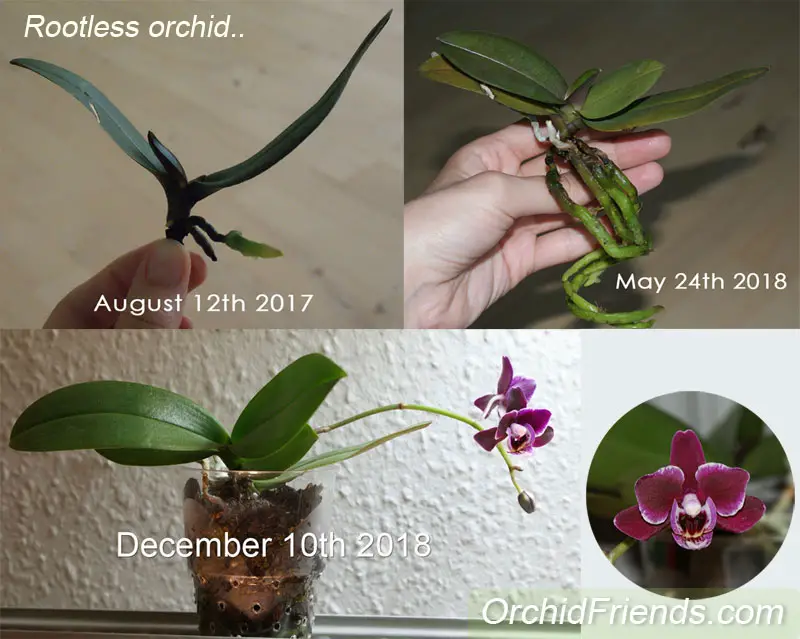 Sunburn
Overheating can occur when the orchid is placed in direct sunlight during hot temperatures. Sunburn causes the leaves to turn yellow, so it's quite easy to diagnose.
The first thing you need to do is to immediately relocate your orchid. Find a place in your orchid room where the plant can still get plenty of bright light – somewhere near the window, but far enough out of direct sunlight.
If you live in a cooler climate, it's fine to keep your orchids on the windowsill, but move them further in the room once the warm season starts.
The sunburned leaves will fall off naturally, but you can also cut them off.
Over-fertilizing
If you have exceeded the dosage recommendations on the fertilizer bottle, there's a good chance you've over-fertilized your orchid causing root burn.
What you can do with a mild case of root burn, is to flush out the excess fertilizer from the media and roots, by soaking it.
Repeat once or twice to ensure you've flushed out as much of the fertilizer as possible.
With an extreme case of root burn, it's better to repot the orchid. Cut out all the dead roots with sterilized scissors/pruners, rinse or soak with clean water, and repot in fresh potting media.
When using fertilizer, it's important not to over-fertilize. The safest way to go is to give only half of the recommended dosage.
Many orchid growers swear by "Weakly, weekly." However, it's up to you if you want to use fertilizers all the time, only occasionally, or never.
Drastic temperature changes
Orchids are sensitive to extreme temperature changes. Too cold causes 'cold stress', and too hot 'heat stress.'
In both cases, you need to relocate your orchid into a spot that is neither too hot nor too cold.
Cut out any affected leaves, sealing the cut mark with powdered cinnamon. Check the roots.
Conclusion
I hope this article has helped you detect what's wrong with your orchid, and how you can save it.
It's best to make a habit to check your orchids regularly; inspect for any changes. The sooner you detect a problem, the better chance you have to save a sick orchid!
Pests, rotting, sunburns, dehydration – so many problems can arise. Luckily with the right care, most orchids can be saved.
Thank you for reading, and good luck with saving your orchid!
Until next time, orchid friends!